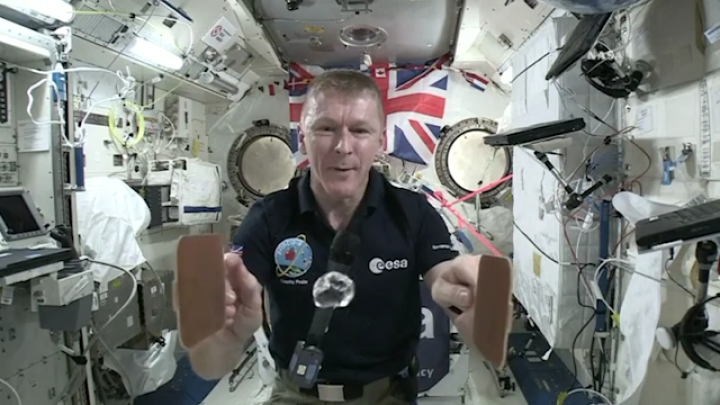 British astronaut Tim Peake will watch the Six Nations England rugby game, taking place on the afternoon of 6 February from space. The game will be streamed live to the International Space Station (ISS) courtesy of BBC Sports.
The European Space Agency (ESA) will collaborate with the BBC to live stream England's test match against Scotland, which is slated to take place in Murrayfield, just so Peake will have the opportunity to join thousands of other Earth-bound fans in watching the game live.
The event would mark a landmark achievement for the BBC, for having successfully broadcast a show live to space, for the very first time. BBC head of TV Sport Philip Bernie said, "Streaming to space is an exciting first for us. We knew Tim was a massive rugby fan and now he can join the rest of the nation watching the Six Nations," the Guardian reported.
Peake seems to have converted the ISS into space's ultimate sports frontier. So far, he has played ping-pong with water droplets, performed several impressive somersaults in zero gravity and will also participate in the London Marathon while aboard the space station, later in the year.
In a recorded message, meant especially for the team, Peake said, "I know that space is a hostile environment, but Murrayfield, for the old Calcutta Cup, that's a whole different matter. And Scotland has a fire in their belly; you could hear their World Cup rage from up here in space... May the best team win! Come on England!"
Sadly, not everyone can expect a direct, live and automatic stream of the game, right to them, not unless you are an astronaut, or maybe the Queen. For the rest of us Earth-bound mortals, the Scotland vs England Six Nations match kicks off at 4.40pm on 6 February. Get your drinks, snacks and be ready to tune in to BBC One and BBC Radio 5 Live for live coverage.