Law enforcement authorities have tracked down and arrested a man who inexplicably repeatedly attacked a pregnant endangered monk seal on a beach in Hawaii. The attacker was captured on video angrily striking the animal in the shallow surf of Salt Pond Beach in Kauai. Officials have not released the man's identity, reports Hawaii News Now.
The video clip shot by a witness that went viral shows the animal lumbering away into the water several times to escape the blows.
The monk seal, identified as RK-30, is about 17 years old and pregnant. She bears the scars of shark bites and fishing line once apparently wrapped tightly enough around her neck to leave marks.
"She's a well-known adult here on Kauai for being a survivor as well as being an excellent mother," said Jammie Thomton, Kauai's marine mammal response coordinator for the US National Oceanic and Atmospheric Association (NOAA).
Witnesses to the attack called police who then notified the State Department of Land and Natural Resources and the NOAA Fisheries Office of Law Enforcement. They were able to locate the seal, but not the suspect.
The animal fortunately shows little long-lasting sign of trauma from the attack. "She was disturbed and agitated, but not enough to leave the area," said Thomton.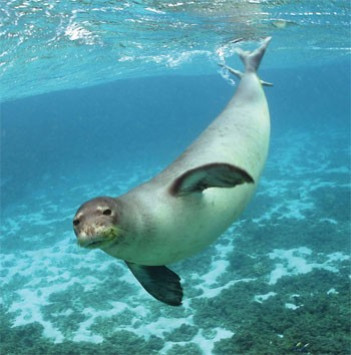 Hawaiian monk seals are protected under the Endangered Species Act, the Marine Mammal Protection Act and state law. It's a crime to harass, disturb or injure a monk seal. If convicted the seal's attacker could face a fine of $5,000 (£3,415)and up to five years in prison.
"The Hawaiian monk seal is one of the most endangered marine mammals in the world," said Kauai County Mayor Bernard Carvalho. "They deserve our respect and protection, and our gratitude goes out to the bystanders who immediately contacted authorities. This behavior is both unacceptable and illegal."
He said the outrage that followed the release of the video proves that "there is overwhelming support for monk seals."
The Sea Shepherd Conservation Society offers a $5,000 reward for information leading to the arrest and conviction of anyone killing or injuring a monk seal. There is an extra $5,000 reward for information that includes video evidence.
The monk seal is native only to Hawaii. Officials estimate that there are only 1,060 of the seals left in the world, though they appear to be making a small comeback this year. Elsewhere in the US, California sea lions are facing a particularly bleak year.