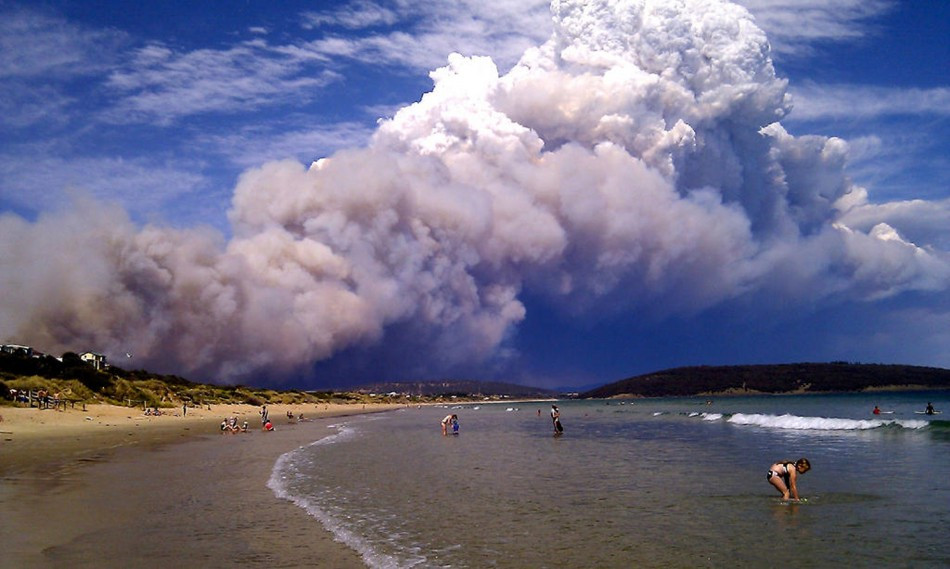 Bushfires that burned to the ground more than 100 buildings in Australia's southern state island of Tasmania are now threatening the Sydney area.
Sydney's New South Wales (NSW) state fire and rescue agency said it was expecting "unprecedented fire conditions" to hit the state, as temperatures are expected to reach 43C with winds as strong as 80km/h (50mph).
"We are expecting extremely dangerous bushfire conditions, the likes of which haven't been seen in NSW for many years," NSW fire and rescue's Commissioner Greg Mullins said.
Mullins also urged families living in high risk areas surrounding the Sydney to get ready and "ensure their homes were well prepared against the threat."
About 100 wildfires have already been reported in NSW. A firefighter suffered from severe burns while trying to extinguish a blaze near Gundaroo village, about 220 km (138 miles) southwest of Sydney.
"Tomorrow [Tuesday] will be perhaps the worst fire danger day this state has ever faced," NSW premier Barry O'Farrell said.
Tasmania
Australian prime minster Julia Gillard has visited Tasmania's worst-hit regions.
"I've come to Tasmania for one purpose, and that's to say to the people of Tasmania that the nation is standing with them at this very difficult time," Gillard told reporters in Hobart.
About 20,000 hectares (50,000 acres) of forests and farmland have been burnt across the island in four days and several fires are still to be extinguished.
No casualties have been reported but about 100 missing people are reported missing. Many of them live in the small town of Dunalley, east of Hobart, where around 90 homes were burnt down.
"Until we've had the opportunity to do all the screening that we need to do at each of those premises, we can't say for certain that there hasn't been a human life or more than one human life lost as a result of these fires," Tasmania's acting police commissioner, Scott Tilyard, said.
READ: Tasmania Bushfires: Firebug Arsonists Feared as Thousands Trapped