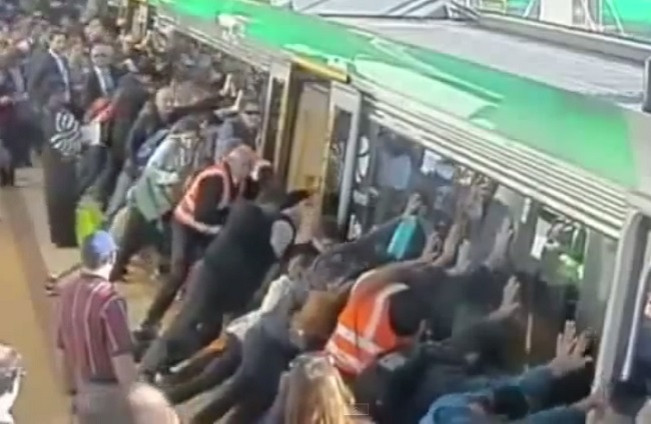 People power is very much alive Down Under after hordes of commuters came together to help free a man trapped between a platform and train.
The incredible image above shows the crowd pushing the carriage of the train away from the platform at Sterling station, 9km northwest of Perth, Western Australia, at 8.50am - enabling the man to release his leg.
Moments before, the man had slipped as he stood by the doorway of the train.
Emergency services arrived but the man did not sustain serious injuries.
"He was walking so he was reasonably ok," said Nicholas Taylor, who was one of the passengers who got off the train and worked together to free the man.
"He seemed to be a bit sheepish, because right where he fell was the 'mind the gap' writing."
Taylor praised station staff for their quick handling of the incident - alerting the driver so he would not leave the station.
David Hynes, a spokesman for public transport operator Transperth, said: "We hear a lot about poor behaviour on public transport. It's really great when something like this happens and people work together to help a fellow commuter."