Australia: Controversial 'No Way' anti-Immigration Advert Sparks Outrage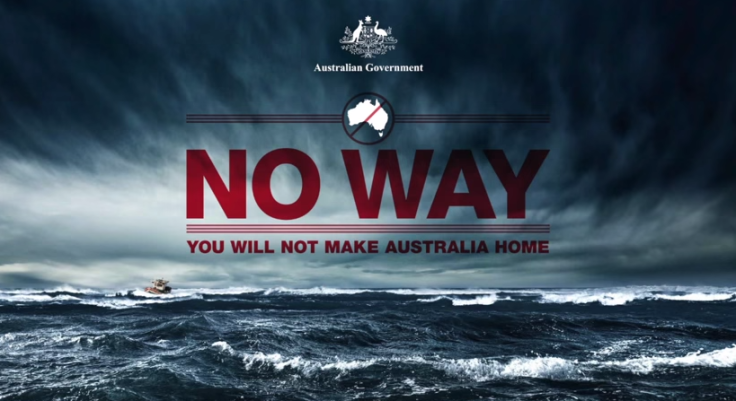 The Australian government has sparked criticism after it issued a controversial anti-immigration ad, aimed at discouraging asylum seekers from travelling to the country illegally.
The poster is titled "No Way" and the tagline reads: "You will not make Australia Home.
"If you get on a boat without a visa, you will not end up in Australia. Any vessel seeking to illegally enter Australia will be intercepted and safely removed beyond Australian waters."
A boat on a churning sea is depicted in the background.
A video was also released showing General Campbell, commander of the Operation Sovereign Borders command structure, who explains that "it is the policy and practice of the Australian government to intercept any vessel that is seeking to illegally enter Australia and safely remove it beyond their waters."
"The rules apply to everyone: families, children, unaccompanied children, educated and skilled. there are no exceptions," he continues.
"Do not believe the lies of smugglers, these criminals will steal your money and place your life and the life of your family at risk, for nothing."
The ad sparked controversy, with people criticising, among other things, the choice of the background image, given the recent surge of boat sinkings which have claimed the lives of hundreds of migrants.
Nonprofit Refugee Action Coalition Sydney said that "almost all the deaths at sea have been caused by the appalling response of Australia's search and rescue services, who have been told to prioritise stopping boats, not saving lives."
Operation Sovereign Borders is run by the Australian Defence Force, and is aimed at stopping asylum seekers from reaching the Australian coasts by boat.
The campaign was created after Prime Minister Tony Abbott declared in 2013 he would commit to "stopping the boats".
Australia has already been under fire for its approach to immigration.
The country applies an approach known as the Pacific detention policy, which sees mandatory detention of all persons entering the country without a valid visa. Amnesty International criticised the laws as "[they] sacrifice the protection of refugees in favour of deterrence."
Australia is also believed to have repeatedly forced asylum seekers approaching the coasts to go back to Indonesia.
According to Human Rights Watch: "Australia again seeks to shunt desperate boat people to remote camps, perhaps for years, to punish them for arriving uninvited by sea."
© Copyright IBTimes 2023. All rights reserved.