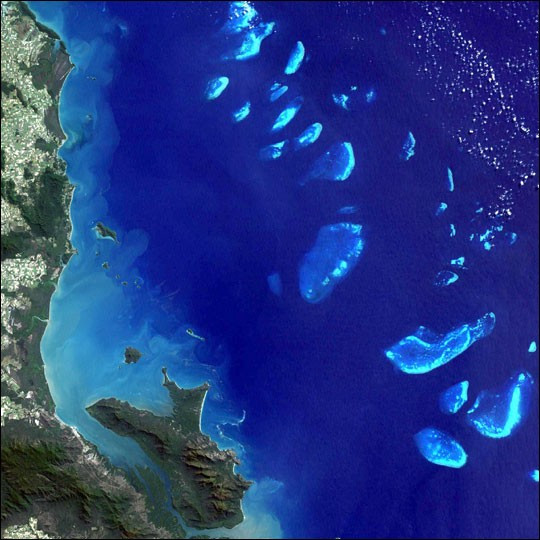 The health of Australia's Great Barrier Reef has declined significantly, placing one of the world's most important ecological sites nearer to being labelled at risk by the United Nations.
A report on the health of the world's largest coral reef system reveals that extreme weather, including floods and a cyclone has caused its condition to decline from moderate to poor since 2009.
Inshore coral reefs, the reason why many tourists visit the area, have more than halved since 1985, due to storms, starfish outbreaks and bleaching linked to climate change.
"Extreme weather events significantly impacted the overall condition of the marine environment, which declined from moderate to poor," said the report, released by Mark Butler, the Australian Environment Minister.
The key reef ecosystems were showing "declining trends in condition due to continuing poor water quality, cumulative impacts of climate change and increasing frequency and intensity of extreme events," according to the Times.
In spite of reductions in pesticides, nitrogen and other pollutants that are the key to outbreaks of destructive crown-of-thorns starfish, the marine pest remains the biggest threat to the Great Barrier Reef, slowly killing it off.
Cyclone Yasi, which caused widespread destruction in 2011, depleted water quality and destroyed coral cover across the 1,250-mile reef by 15%. "Full recovery will take decades," the report said.
Unesco earlier this year threatened to downgrade the reef's world heritage status to "at risk" in 2014 unless there was significant action on coastal and resources development, including gas and coal-mining projects.
Last year, the government stopped approval for a A$6.4 billion (£4 billion) coal mine over concerns that run-off could cause major damage to the reef.
Mining companies have come under scrutiny for using it as a superhighway for coal exports. Of particular concern is the controversial new dredging proposal at the Abbot Point coal terminal in Queensland.
The federal and Queensland state environment ministers announced that they would invest a total of $A375 million (£228m) between 2013 and 2018 under a new Reef Water Quality Protection Plan, designed "to guide initiatives to ensure that runoff from agriculture has no detrimental impact on the health and resilience of the Great Barrier Reef".
However, Greenpeace was critical of the Australian government's response.
"It is pretty clear that the Queensland government is not going to stand up to the coal industry and protect the reef in the interests of the broader community and future generations," said a spokesperson for the global campaigning organisation.