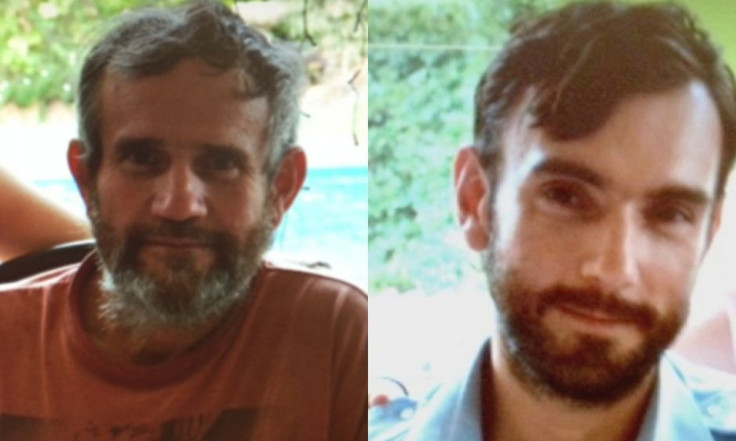 When New South Wales police announced it was launching a state-wide manhunt after a shoot-out with officers near the city of Wagga Wagga earlier in October, the names of the father-and-son fugitives will have been familiar. Gino and Mark Stocco have been on the run for eight years and are now known as Australia's most wanted men.
Gino, 57, and his 36-year-old son have now spectacularly beaten capture on several occasions, including a a car-chase when they shot at officers who had pulled them over for not wearing seatbelts. Police confirmed the Stoccos drove at high speed past a checkpoint and later rammed a police car with their stolen vehicle.
On 25 October, the fugitives – who, like most of the Australian outback, are driving the invincible and ubiquitous white Toyota Land Cruiser, which they stole from a farmer – took fuel from a service station and again disappeared, the latest in a string of occasions that they have eluded police.
Announcing a state-wide manhunt that will include dozens of heavily armed police, Andrew Scipione, commissioner for New South Wales police, pleaded with the Stoccos to turn themselves in, arguing: "You have gone past the point of return. It is time to stop. Give yourself up and let us deal with what it is you've done." The police, aware the pair will soon need to stop for fuel again, are playing a waiting game.
But Gino and Mark have time and time again proved they are no run-of-the-mill criminals. In 2003, the pair embarked on a three-year boat journey around Australia's east coast, defrauding friends, family members and total strangers as they moved from harbour to harbour, continually eluding the authorities. They were caught in 2007 and served a short time in prison before disappearing again.
Since then, the pair have used disguises, false number plates and fake IDs in order to hide from the police for more than eight years, and are accused of property damage and violent crime across three Australian states as well as numerous cases of fraud and embezzlement. Even their current choice of transport, the Land Cruiser, makes them almost impossible to find, given most residents of Australia's rugged outback drive the hardy vehicles.
No fond feelings for the Stoccos
The Stocco case has dominated headlines in Australia, where 150 years earlier the 19th century fugitive Ned Kelly eluded the authorities for two years before being killed in a shoot-out in 1880. But while Kelly is still remembered fondly as a rebel and Robin Hood figure who fought back against corrupt local authorities, there is little fondness for the father and son duo from either their family or those they have encountered on their rampage so far.
A Queensland farmer named Doug told local radio channel 3AW that he slept with a gun beneath his bed after the fugitives returned and ransacked his property about a year ago having worked there previously as farm hands. "They duplicated keys for my gun safe and proceeded to get the guns out of the safe. And while they were here they filled generators and a tractor with sugar. They're absolute scum," he said.
It is understood that police have not actively sought the pair until now because they had largely kept crime to property damage and theft and had travelled frequently between states. "Until recently, the majority of police dealings with the pair has been in other states — they are suspected of property-­related offences in NSW," a police spokeswoman said. The gunfight with police earlier in October, however, has prompted a massive response.
The men are believed to have an AK47 and ammunition and members of the public have been warned not to approach them.
Family members too have spoken of Gino as the "black sheep of the family" who first embarked on a life of crime in 2003 when he received A$100,000 (£47,000) in a divorce settlement which he then spent on a luxury yacht. He and his son then spent the next three years touring eastern Australia, embezzling tens of thousands of dollars from those they met on the way, including a priest and a soldier, in whose name they ran up debts of A$15,000.
When the pair were finally tracked down using GPS coordinates on 21 December 2007, they had $3,600 in cash and two balaclavas but claimed their only source of cash was fruit-picking jobs. They were charged with 15 counts of burglary, theft, making false passports and deception and served a short stint in prison before being released and then once again going on the run.
Speaking to the Australian newspaper on 27 October, Gino's father Peter Stocco said he was disappointed in his son and grandson but there was little he could do. "I'm Gino's father but I can't say anything. You don't know how long I haven't seen him for," he said, adding it had been three years. "I'm disappointed. I can't imagine [the situation they are in]."
Others have told local media they believe that, like Ned Kelly, the pair are unlikely to go quietly if and when they are caught by police. "Considering they are shooting at cops, I honestly think that they would rather go down fighting than hand themselves in," said Clint Ashton, who went to high school with Mark. "Hopefully it does not end badly but I can't see it ending good."