Australia: Teenage Surfer Kirra-Belle Olsson Fights off Shark at Avoca Beach After Being Bitten Twice [Graphic Images]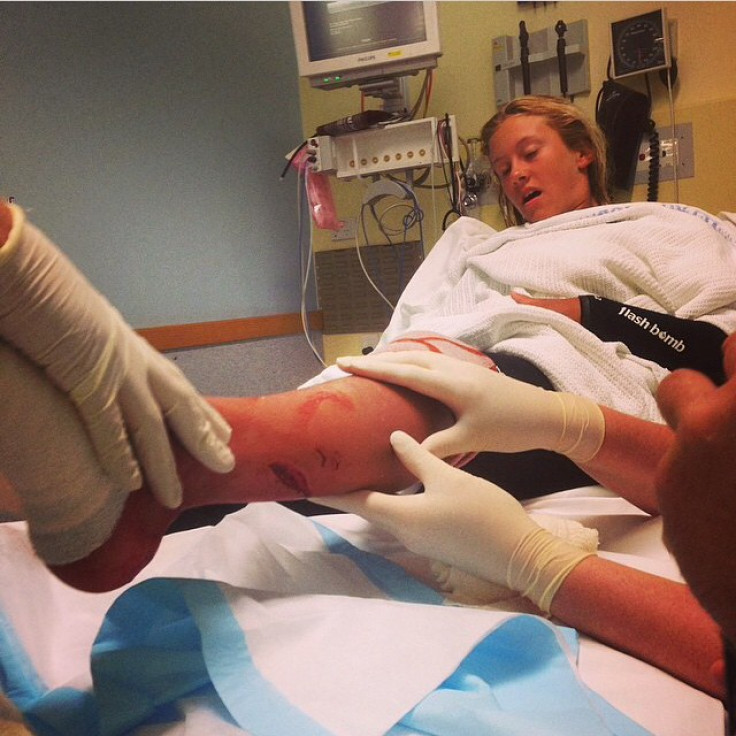 Kirra-Belle Olsson, 13, was surfing off Avoca Beach, 60 miles north of Sydney, when she was bitten on the left ankle by a 3ft shark, police said.
She suffered puncture wounds to her foot and a cut to her calf, police said.
Olsson was surfing at around 6.30am on Friday, according to ABC News, when she took a wave and landed on top of the shark.
She said she initially thought the shark was a friend tugging on her leg.
"It just swung me around and tried to pull me under and I saw the tail and ... I really didn't know what to do so I just started screaming," she told Australian Broadcasting Corporation at Gosford Hospital.
"I paddled ... in shock. I just started laughing, I was like, 'Whoa, what the hell, I just got bitten by a shark,'" she told Seven Network television.
Olsson, who lives in Copacabana, has won numerous junior surfing titles. She said she expects to compete in national title competitions in Western Australia in December, despite her injuries.
She was treated on the beach by onlookers, who then drove her to the hospital.
Two weeks ago, a surfer had part of his arm torn off by a suspected 13ft great white shark while surfing off near the town of Esperance.
© Copyright IBTimes 2023. All rights reserved.