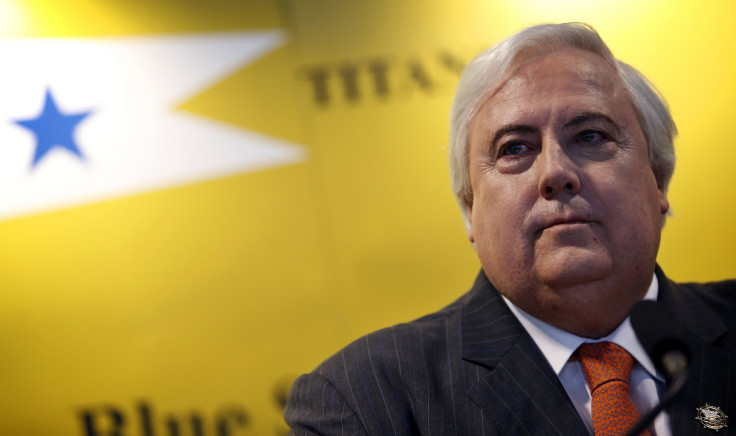 Australian lawmaker and mining magnate Clive Palmer's media adviser Andrew Crook was arrested for alleged kidnapping of a bank executive on an Indonesian island, according to media reports.
Queensland police had been investigating claims that Crook, former senior detective Mick Featherstone and another suspect, multi-millionaire property developer Tony Smith, were trying to persuade a witness in a case involving Smith.
They allegedly lured the witness, who is an employee at the National Australia Bank (NAB), to an Indonesian island in order to recant evidence given in a A$70m (£37m, €46m, US$57m) case between the NAB and Smith.
The executive was allegedly detained on Batam by fake Indonesian security officials and threatened with violence.
Featherstone was also arrested along with Crook, and charged with attempting to divert the course of justice, retaliation against a witness, attempted fraud and obstructing the course of justice in a case involving the alleged unlawful detention and coercion of the NAB executive.
Both Crook and Featherstone have been granted bail, as they were ordered to surrender their passports, not to approach an international airport and to have no contact with the co-accused.
Smith would return from Indonesia to face charges in Australia, ABC News reported.
Palmer, who made his fortune in mining and won a seat in the lower house of parliament in 2013, said he had no knowledge of the incident. However, he hinted that the arrest of Crook could be politically motivated.
"The LNP, the Liberal Government - Campbell Newman and Tony Abbott - don't like the opposition we've been giving them in the Senate, they don't like that sort of thing," ABC News quoted him as saying.
"I think this is a black day for Australia if any of this, which I don't know anything about at the moment, has anything to do with political freedom in this country."
His Palmer United Party controls the balance of power in the Australian Senate.
National Australia Bank said it gave police "details of unsolicited approaches made to an employee regarding evidence they gave in a civil court trial involving a former customer".