An alleged racist has been charged after a vicious brawl erupted on an Australian beach shortly after an immigrant teenager drowned on 18 December.
Footage posted to social media appears to show amiddle-aged white Australian hurling racist abuse at a group of black boys who were friends of the deceased, 15-year-old Eliase Nimbona.
The Burundian migrant had been swimming off Adelaide's Glenelg Beach at a birthday party when his body was spotted floating underneath a jetty.
His lifeless body was pulled to the shore but medics were unable to resuscitate him. He was declared dead at 4.30pm, 9 News reports.
In the video, the man appears to shout, "You're weak, you're all f***ing weak, you weak f***ing dogs," at the grieving, friends who are also believed to be from the Burundi community.
He then says, "You f***ing black c***s," at which point members of the group charge at him, landing a number of punches, as passers by try to break up the fracas.
Police say the man has been charged for disorderly behaviour and carrying an offensive weapon – local reports suggest it was a knife.
Nimbona's death has highlighted the need to improve swimming education among some immigrant communities – two young Burundians drowned at the same beach on New Year's Day while a 15-year-old Indian girl succumbed to the waters just last week.
"Repeated tragedies must mean time for an action plan," head of Australian Life Saving said, in a tweet.
"South Adelaide has the best funded school and vacation swimming program in Australia. Time to expand focus to the most vulnerable communities," he added.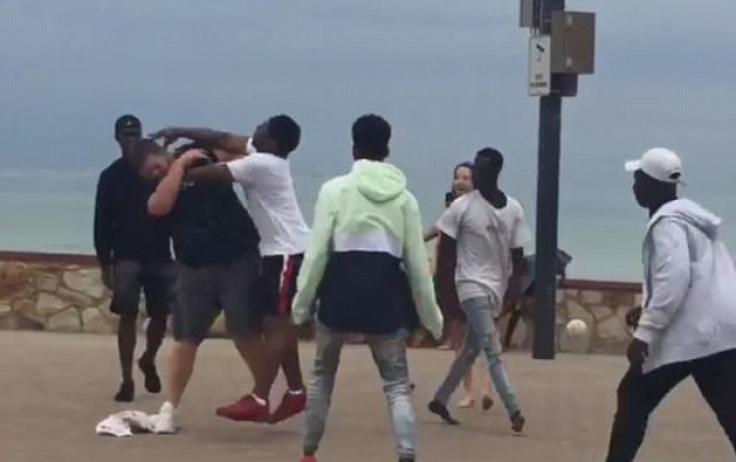 The tragic teen's mother could be seen and heard wailing with grief as authorities covered his corpse. The chair of the Burundian Community of South Australia described him as a "good boy".
He was pulled to the shore by a heroic teenager, known only as Max, aged 16. He told The Advertiser: "I was about to jump off the jetty and people were screaming there was a body in the water.
"I jumped off the jetty into the water and just swam around to him and just dived down for him."
He was laying face down and I just had to grab him, I just had to pull him straight to the beach and others helped me."
Along with a friend, Max checked for Nimboni's pulse, while another ran for help. Sadly, they could not do enough to keep the victim alive.
Most sadly of all, though, Nimbona's death will now be forever associated with an alleged racist outburst, which led to a brawl.