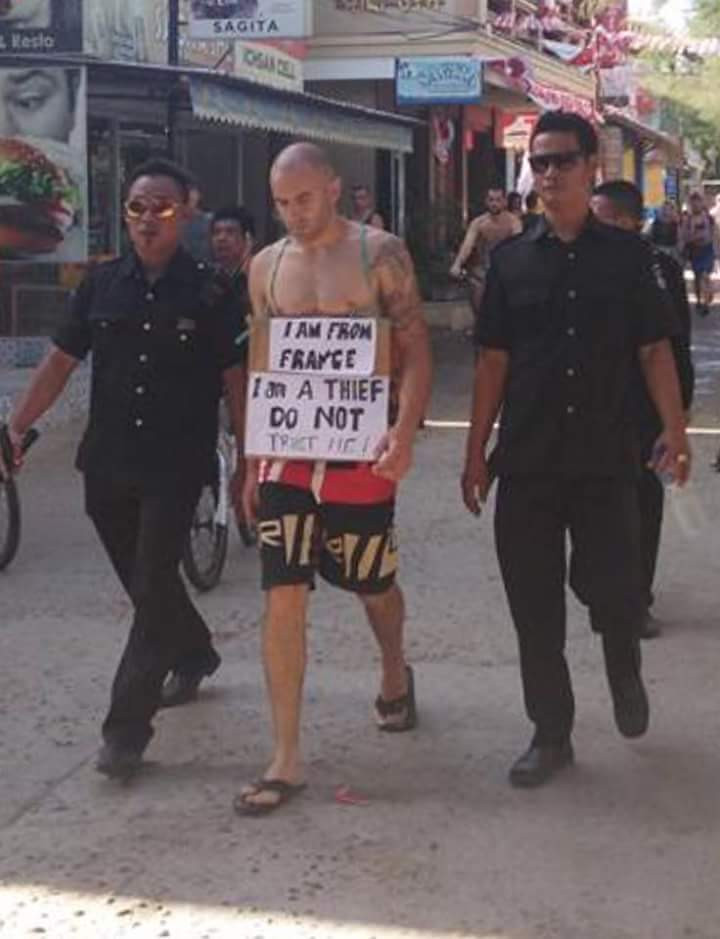 The Australian tourists whose walk of shame on an Indonesian island has gone viral are not the first people to be publicly humiliated by local authorities this year. IBTimes UK has uncovered photos of more alleged criminals being marched through the island of Gili Trawangan by security forces and village chiefs.
In one image, posted on the island's Facebook page on 9 August, a man is seen being marched through the streets wearing a sign reading, "I am from France. I am a thief. Do Not trust me!"
It does not appear that the draconian punishment is reserved purely for foreigners though. A Twitter post from travel agency Bali Arrangements shows two Indonesian men wearing signs written in Bahassa also reading, "I am a thief. Don't do what I did".
The tweet says: "Another walk of shame for stealing on Gili Trawangan, Lombok on April 27 2016." But a travel manager from Gili Trawangan, who declined to be named, told IBTimes UK this particular walk of shame took place five years ago.
He explained the punishment had been introduced to the remote island shortly after the tourist industry began booming in the 2000s. "There is no police office on the island, only security [office] and when they catch someone who stole they ask you for money and put you in 'jail' [a holding cell] for the night. The day after you walk down the Main Street around all the island (7km) with the board 'I'm a thief don't do what I did,'" he added. He said that the walk of shame is reserved for alleged offenders who can afford to bribe their way out of jail on the mainland.
The manager estimated that there were walks of shame every four or five months and that the majority were local criminals. He said: "With the drugs problem there are many local people who steal from western people... but it's the same punishment for them if they don't have any family in the police."
He said that the island had been blighted by 'Sapu Sapu' - a slang term for methamphetamine - which "makes people become bad". The walk of shame is reserved for minor offences such as stealing. If anyone is found in possession of drugs then they are taken away to prison unless they can pay a much larger fine of around $15,000 (£12,000).
He explained that there were police officers on the island but no station. That is why a policeman can be seen escorting the Australian couple on their march. This man, along with a security guard, appear to feature in the new images discovered by IBTimes UK.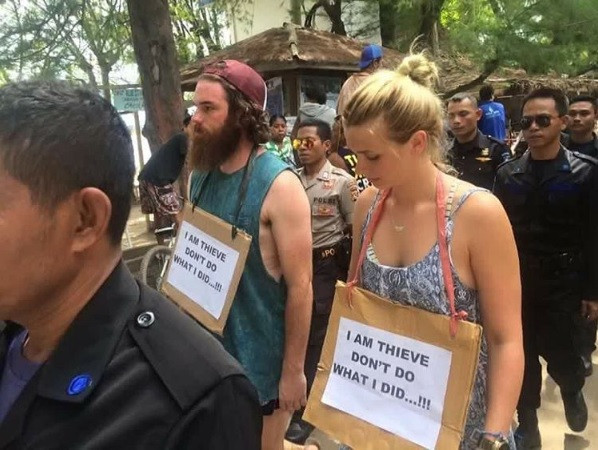 Public humiliation has been employed by many cultures throughout history. In Europe, the stocks and the pillory were imported from medieval Europe to colonial America. In pre–World War Japan, adulterers were publicly exposed purely to shame them. However, public shaming has largely been abandoned as a form of punishment in the West. It is not even clear if there is a legal basis for it in Indonesia but the travel manager pointed out that it was a preferable punishment to prison.