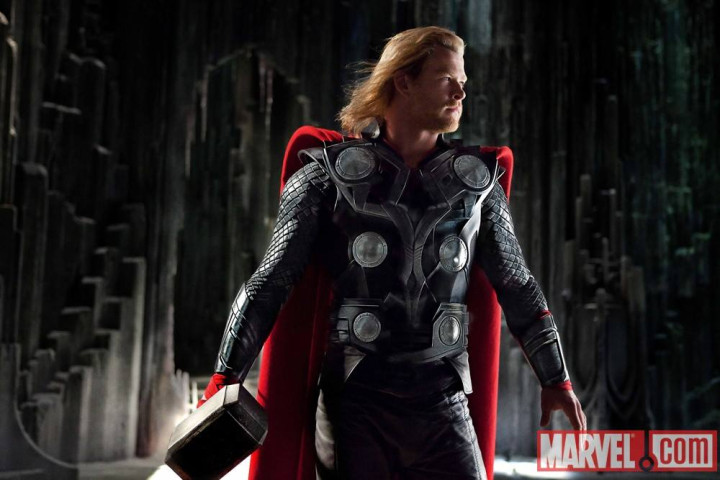 Hold your heart ladies. We just got the Sexiest Man Alive and it's none other than the hammer wielding Norse god, Chris 'Thor' Hemsworth.
Hemsworth's role as Thor in The Avengers has been highly appreciated by fans who couldn't be happy enough to know that People magazine has awarded their favourite star as the Sexiest Man of 2014.
"I think you've bought me a couple of weeks of bragging rights around the house," the Australian actor told People magazine in this week's cover story.
"I can just say to her, 'Now remember, this is what the people think, so I don't need to do the dishes anymore, I don't need to change nappies. I'm above that. I've made it now'," he was quoted as saying, referring to his wife Elsa Pataky.
Apart from his all muscle role in the Avengers, Hemsworth will be seen in a different avatar in Michael Mann's upcoming thriller Blackhat.
The actor has beaten Batman V Superman star Ben Affleck and Guardians of the Galaxy star Chris Pratt in order to win the top honour.
Pratt came second in the list while Jamie Dornan who will grace theatres as the sexy billionaire in Fifty Shades of Grey came third in People's Sexiest Man Alive title.
The winners were announced by Jimmy Kimmel during his show.
Below are some tweets that did the rounds soon after the sexiest men of 2014 were announced:
Swayze hair 1991, Hemsworth hair 2014. #sexiestmanalive @peoplemag pic.twitter.com/DjjKO7EC40

— Michael Del Moro (@MikeDelMoro) November 19, 2014
Do you think Liam called Mama&Papa Hemsworth and cried, but I have a movie coming out this week, Chris ruins everything! #sexiestmanalive — AKA Fefe, Fe5e, Fee (@theefefe) November 19, 2014
WOW! #ChrisHemsworth has scored the #SexiestManAlive title for 2014 from @peoplemag. Congrats Chris! pic.twitter.com/U7zX44H1JG

— Hollyscoop (@Hollyscoop) November 19, 2014
Jamie Dornan came in 3rd place for the #SexiestManAlive http://t.co/ZbFFel1wBi (via @Shades_Blog) pic.twitter.com/tSD3D9JamM — Fifty Shades Updates (@ShadesUpdates) November 19, 2014
Hey @MattBomer Congratulations on making @peoplemag 's top 12 #sexiestmanalive list at no.7 you are no1 in my every list ♥♡ you gorgeous

— pamela chakraborty (@pamela_pam123) November 19, 2014