Specially-trained police will abseil down a sheer cliff face at Avon Gorge today in a bid to determine whether the death of 28-year-old Jamie Tipper, who fell to his death in December, was accidental or murder.
Bristol City fan Tipper, from Old Market in Bristol, was found dead after falling from the cliff on 20 December.
Although it is still unclear how he died, a 24-year-old has bene arrested on suspicion of murder and bailed until March.
Speaking to Sky News, Detective Inspector Andy Bevan from Avon and Somerset Police said: "We've received further information relating to the death of Jamie Tipper which has resulted in us calling in the rope access team to help with a search of the cliff face at Avon Gorge on Sunday.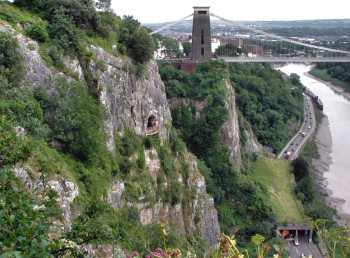 "The team has been tasked to look for specific items relating to the inquiry."
Tipper's family are seeking answers as to how their son died in what was the second tragedy to affect the family in recent years.
In 2009 Mason, Tipper's four-month-old nephew, was shaken to death by his mother's partner Andrew Rawlings. The Tipper family campaigned to get Rawlings' four-year prison sentence increased.
On Facebook Jamie's mother Debra wrote: "Never known pain like this. Pure utter devastation. Totally numb. How much more grief must my family have to go through… don't know how to feel. Can't cry anymore. Just feel completely numb. Always tell the people you love how much you love them because you never know when it will be your last time."
Speaking as police prepared to search the area where Tipper died for clues, DI Bevan requested anyone with information to come forward.
The police are particularly keen to speak to a taxi driver and two men seen walking in the area at the time Jamie died.
"These people may hold important information and I would urge them to come forward," said DI Bevan. "We're keeping Jamie's family fully up-to-date with our progress."