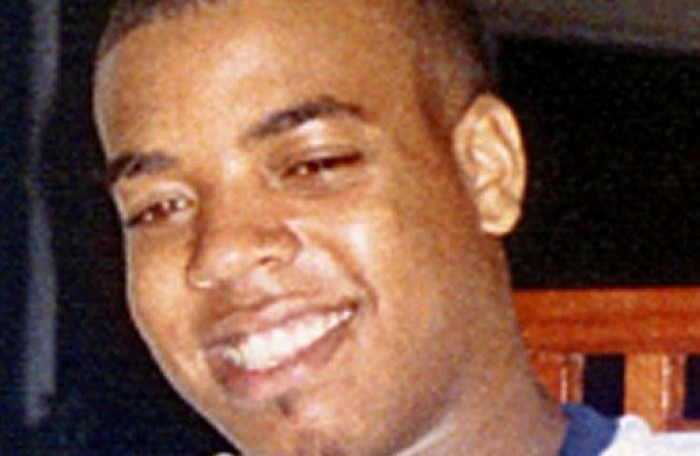 A police officer who shot dead a 24-year-old suspected armed robber in North London in 2005 has been found not guilty of his murder.
Azelle Rodney was shot six times by police marksman Anthony Long in Edgware, North London, in April 2005 after police stopped a car he was travelling in with three others.
Long fired at Rodney during a police operation as he believed he and three others were planning an armed robbery.
The officer said he shot Rodney six times – once each in the arm and back and four times in the head – as he believed he was armed with automatic weapons and was going to fire at Long and his fellow officers.
During the trial, the jury were told Long took just six hundredths of a second before deciding to shoot Rodney, which the prosecution argued was not nearly enough time to decide if he was a threat.
It was later revealed Rodney did not have a gun in his hand when Long fired at him.
Searches of the Volkswagen Golf did not recover any automatic weapons but three guns were found: a Colt.45 calibre pistol, a Baikal pistol and a smaller gun disguised as key fob.
Following a trial at the Old Bailey, Long has been found not guilty of murder. The decision means no police firearms officer has ever been convicted of murder for killing a suspect.
Rodney's mother, Susan Alexander, previously demanded an apology from the police for what she described as an "execution".
Long retired from the Met Police in 2008.
Following the verdict, Assistant Commissioner Patricia Gallan, in charge of Specialist Crime and Operations, said:"Police officers are not exempt from the law, and would not wish to be. However, standing trial for murder will have been a very stressful and difficult time for Tony Long, a police officer for over 30 years. The impact that this will have had upon him, and his family, should not be underestimated.
"This must also have been a difficult time for Mr Rodney's family. The MPS regrets Mr Rodney's death, and we express our full sympathy to his family.
"No police officer sets out to take part in an operation that results in taking someone's life.
"The reality is there are some criminals who choose to carry guns. Without firearms officers to stand between us and them, the threat posed to the public would be very different indeed. The risk posed to police officers, whose duty it is to catch them, would be extremely high.
"That day in 2005 Mr Rodney had three guns with him in the car, and along with two others was on his way to rob a gang of drug dealers. Our officers believed, based on intelligence, that they had a machine gun, and other firearms and were prepared to use violence. The two men with Mr Rodney pleaded guilty to having guns in their possession and were sent to prison.
"We seek to learn from every operation and constantly try to improve how we deliver armed policing, for the good of the public and our officers."