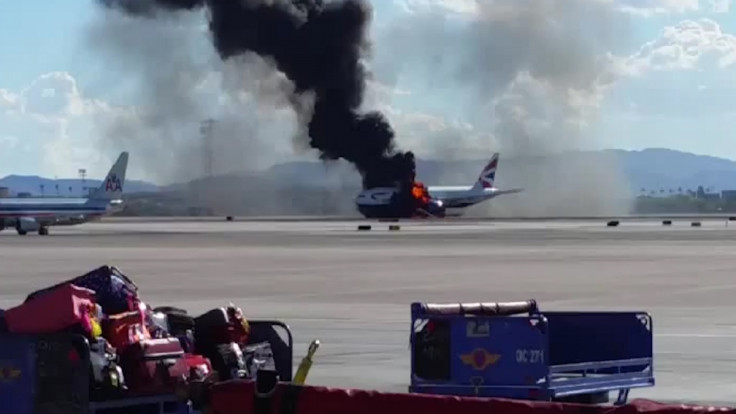 An initial report into a British Airways plane that caught fire at a Las Vegas airport on 9 September has found 'multiple' breaches in the casing around a key component of the engine.
The Boeing 777-200 was heading for London's Gatwick airport with 157 passengers and 13 crew members on board when it aborted take off after its left engine caught fire at the McCarran International Airport. At least 14 people were taken to hospital with minor injuries.
The US National Transportation Safety Board said: "Initial examination of the left engine revealed multiple breaches of the engine case in the area around the high pressure compressor.
"Examination of the material recovered from runway found several pieces of the high pressure compressor spool (approximately 7-8 inches in length)," the report added.
The BBC said that the most worrying aspect of the initial findings was that the engine failure was not contained by the casing, which is designed to stop any bits of metal flying out and damaging the rest of the aircraft, including the fuel tanks and critical wiring.
Dr Colin Brown from the Institution of Mechanical Engineers told the BBC that it's "most likely" to be from a "fatigue crack". Brown, an expert in fatigue crack growth, was formerly attached to Rolls Royce.
He said inspectors will now be establishing how new the part was and when it was last checked. If the part is relatively new, the authorities could possibly ground aircraft with similar engines to check if they have the same problems.
The plane's flight data and cockpit voice recorders are now being examined by the board and the left engine is due to be shipped to experts to uncover what caused the fire.
The investigation team includes experts in powerplants, airplane systems and fire, The Guardian says. Investigators from the US Federal Aviation Administration, Boeing and GE Aviation, as well as British Airways and the UK Civil Aviation are helping out in the probe.
General Electric has confirmed that the British Airways plane was powered by two of its GE90 engines. It said the engine used to power the Boeing 777 fleet had an "outstanding" safety and reliability record since entering service in 1995, according to Reuters.
"Based on the engine fleet's service history, we are not aware of any operational issues that would hazard the continued safe flight of aircraft powered by these engines," it said.