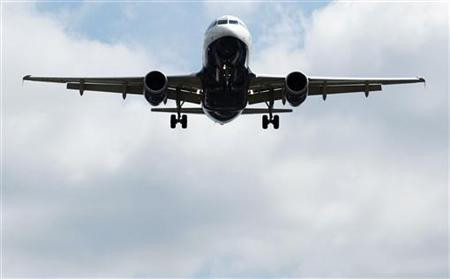 BAA, the owner of, among others, Heathrow and Stanstead airports reported a decline in passenger numbers in February.
Passenger numbers in all of BAA's British airports fell 0.2 per cent from the same month the previous year to 7.1 million.
At Heathrow airport passenger numbers increased 0.5 per cent to 4.6 million, while BAA's Scottish airports reported a rise in passenger numbers of 4.6 per cent to 1.2 million.
At Stanstead airport passenger numbers dropped 6.3 per cent to 1.2 million and Southampton airport reported a fall in passenger numbers of 9.5 per cent to 104 million.
BAA said that the growth in passenger numbers at Heathrow indicated "improving economic circumstances" and added that its Scottish airports had benefited from the Six Nations Rugby tournament. Unrest in the Middle East had a "moderate" effect on passenger numbers, BAA said.
Colin Matthews, Chief Executive of BAA, said, "We remain focused on improving the service we offer passengers and airlines at all our airports.
"Heathrow's strong passenger and freight performance is encouraging for British industry, reflecting steady improvements in the economy and international trade. At our other airports, the slow pace of economic recovery is impacting growth.
"Looking ahead, we remain concerned that increases in Air Passenger Duty planned by the Government will affect the relative competitiveness of UK aviation and damage the UK's international trading position. Aviation plays an important role in promoting economic growth and the industry should not be treated simply as a source of revenue."