The first ever consignment of US shale gas to the UK arrived on Tuesday (27 September) to the sound of bagpipes and blustery winds at chemicals giant Ineos' Grangemouth refinery in Scotland, leaving the Scottish National Party (SNP), which has an anti-shale stance, fending off accusations of hypocrisy.
The Ineos Insight, one of eight new Chinese-made Dragon-class carriers, part of a $2bn (£1.54bn, €1.8bn) logistics and infrastructure undertaking by serial industrialist Jim Ratcliffe's company, arrived in British waters from Marcus Hook in Philadelphia to where Europe's biggest ethane tank would hold its cargo as feedstock for Ineos' Grangemouth operations.
The exercise was backed by Scottish Enterprise and welcomed by the SNP government in Edinburgh for its jobs and investment generation potential.
However, with the ship within sight of Grangemouth, there wasn't an SNP minister around to greet the ship. The party's spokesperson told IBTimes UK that "prior engagements and diary conflicts" were behind the nonappearances.
That included First Minister Nicola Sturgeon, and all 22 serving members of the Scottish cabinet, with Ineos confirming invitations and feelers for the historic occasion had been sent out with due notice. The SNP's grassroots remain opposed to fracking with Edinburgh having imposed a moratorium on it, but the party actively engaged with Ineos in its bid to safeguard the future of Grangemouth, even if it meant importing shale gas.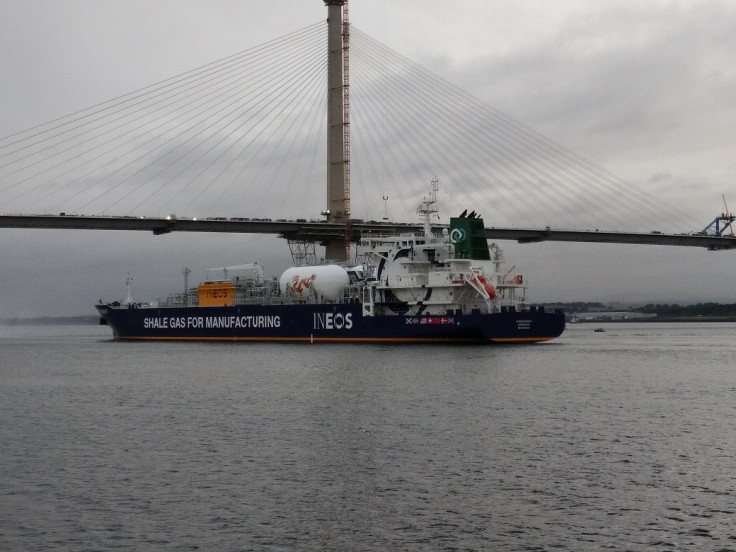 Powered by the proceeds of the US Marcellus shale, Grangemouth – Scotland's largest industrial site and the UK's largest petrochemical facility – beset by financial problems and the under-utilisation of production capacity is on course towards reversing £100m a year in losses, into a £100m profit per annum, according to latest estimates.
Ineos' Dragon-class carriers, each capable of carrying 27,500 cubic metres of ethane, would ensure a steady flow of US gas for the foreseeable future marking a world first for an undertaking of this size.
It also guarantees 10,000 jobs in the area, a point left to David Mundell, the Conservative Secretary of State for Scotland to articulate. "This is a significant day for Scotland and the UK. The [Westminster] government has been proud to support the project via our Infrastructure Loan Guarantee to the tune of £230m."
Ratcliffe, who founded Ineos in 1998 growing it into a £40bn business, said the project had taken five years and everyone involved can look back at it with a great deal of pride. "Grangemouth had been on its knees three years ago given the shortage of competitively priced feedstock. Were it not for this project, the refinery would have closed long time ago. Today is nothing short of the beginning of a renaissance.
"Furthermore, the development can help reverse the decline in UK manufacturing. We have the lowest levels of manufacturing to GDP ratio of any developed economy, with manufacturing accounting for less that 10% of GDP. Shale imported from the US and as well as domestic moves towards shale exploration could reverse that decline."
While choosing not to directly addresses the absence of SNP ministers, Ratcliffe, whose company holds 30 shale exploration licences in England, expressed hope that "common sense" would prevail in Scotland.
"Look at the immense impact shale has had on the US economy in general and manufacturing in particular. There remains is a vocal minority that's opposed to shale; the man on the street is not as concerned as that vocal minority."