An incredible video has been released that shows the moment an eight-year-old boy with cerebral palsy defied the odds to complete a triathlon.
In the footage posted on YouTube, hundreds of people can be seen cheering on Bailey Matthews, from Nottinghamshire, as he crossed the finishing line of the endurance event after completing a 100m swim, 4km bike ride and 1.3km run at the Castle Howard triathlon in North Yorkshire.
Approaching the finish, Bailey abandons the specially adapted walking frame that he had been using and crosses the line unaided to the delight of the crowds watching.
Bailey's mother Julie Hardcastle told The Yorkshire Post: "You can see his little face when he came round and saw everyone, that was his way of finishing in style and showing everyone what he could do. It was the response from the crowd that pushed him to do that.
"Bailey has always been very determined. If he wants to do something he will find a way to do it, even if it is not the conventional way.
"He has always struggled with getting dressed, things that parents of other children take for granted, he does struggle with, just every day things are more difficult for him, but he never lets it bother him. He doesn't see himself as different to anyone else.
"He had made his mind up, we knew he would do it but I didn't expect the reaction from everyone else. The difficult thing is that for us it is normal. We know how amazing he is but the response we have had from other people has been amazing. He inspires us all the time."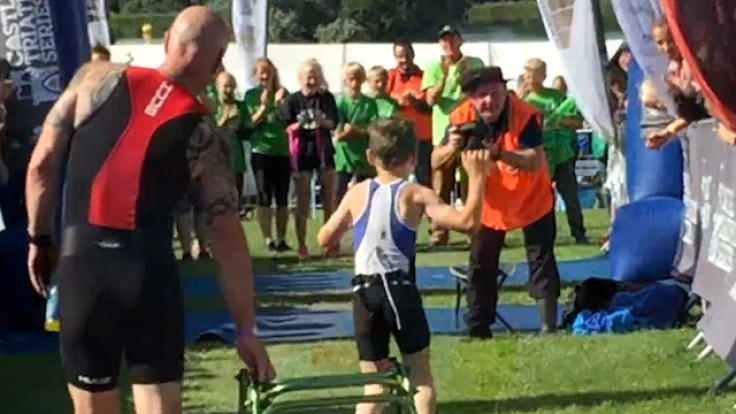 Bailey was born nine weeks early and at 18 months, he was diagnosed with cerebral palsy, a neurological condition that affect movement and coordination.
He took part in the triathlon after his father Jonathan Matthews, a keen triathlete, adapted a walking frame so he could get the round the course himself.
"The response has been quite overwhelming. One lady asked us if he did it as a sponsorship thing, but he just did it because it was something he wanted to do," he said.
"The Castle Howard Triathlon is a very difficult, rough course, there is no way in the world he could do it unaided, because of how undulating and uneven the ground was. It would have been very difficult even for able-bodied children.
"Because of the size and weight of his walking frame, it is sometimes easier for him to walk unaided than to drag it along. The response of spectators was overwhelming, he came last but everyone was waiting for him, which they didn't have to do."
It is estimated that 1 in 400 people in the UK is affected by cerebral palsy, according to the NHS.