Dramatic footage has emerged showing a man believed to be a bailiff driving through a crowd of Occupy London protesters after they were evicted from an abandoned office building owned by Swiss banking giant UBS.
The video shows Occupy London protesters trying to stop the unidentified man from driving away by crowding around his car.
He drives forward carrying one protester on his bonnet along the street before the man is flung off the vehicle.
The incident took place after protesters were evicted from City of London buildings they were squatting.
Protesters allege that the bailiffs, supervised by officers from the Metropolitan Police and City of London Police, were violent and aggressive.
After 50 protesters were evicted from the UBS building, dubbed the "Bank of Ideas", they moved over to outside another nearby Occupy squat being evicted that night, called the "Earl Street Community Centre".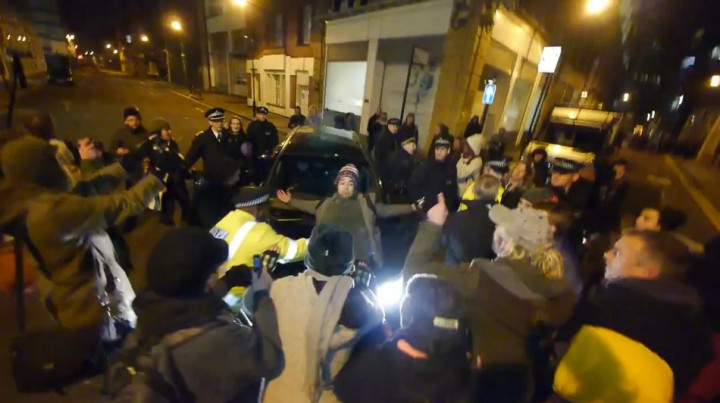 It was here that they claim there was trouble.
"There was a rushing of the crowd and all of the usual standard aggression [and] violence that you expect, and the crowd remained as peaceful as it could be while defending itself," Ronan McNern of Occupy London told IBTimes UK.
He claimed the bailiffs were not wearing identification - something they are legally obliged to do while carrying out the evictions.
"There were people assaulted there and no way of identifying who did it," he said.
"About 4am some journalists were asking one of the bailiffs why he wasn't wearing identification and then he turned around and whacked a photographer in the face.
"He hit the camera so it went into the [photographer's] face."
Jules Mattsson is thought to be the photographer involved. Mattsson tweeted that he would be pushing for criminal charges
At this point the bailiff got in his car, drove down the road, allegedly nearly hitting some of the Occupy London protesters, before turning around because it was a dead end and driving back towards the group.
"I was one of the people who almost ended up on the bonnet," McNern said.
"We were trying to get the police's attention but they didn't seem to give a s**t about what was happening to us.
"They were literally around the corner and they seemed more concerned with the building than people getting hurt.
"The police came around and blocked the side of the car. One of them took the keys out of the car and then handed them back to him [the driver].
"At that point he started the car and went straight into about 10 protesters."
A spokesman for the Metropolitan Police said that a 45-year-old man has been arrested on suspicion of criminal damage and assault.
"A number of people will be taking the police and the bailiffs to court over this," McNern said.