Two teenage boys are being held at a south London police station on suspicion of arson in connection with the fire at the Baitul Futuh Mosque in Morden yesterday (27 September).
The blaze started just after 12pm BST at Western Europe's largest mosque and was attended by more than 70 firefighters and 10 fire engines. The youths, aged 16 and 14 were arrested yesterday in relation to the fire. It is not yet known if the fire was race or religion linked.
One man believed to have been in his 40s was taken to hospital for the effects of smoke inhalation, but others attending the mosque were unhurt. The building that was completed in 2003 and is estimated to have cost £5.5m to build. The mosque can accommodate 10,500 worshipers, but was not near capacity when the fire broke out, with only an estimated 30 people fleeing the building.
The mosque was built for the Ahmadiyya Muslim community on the site of a former Express Dairies building and bears the statement "Love for all, hatred for none". Nearly 50% of the mosque's ground floor was damaged along with some of the first floor and a section of the roof.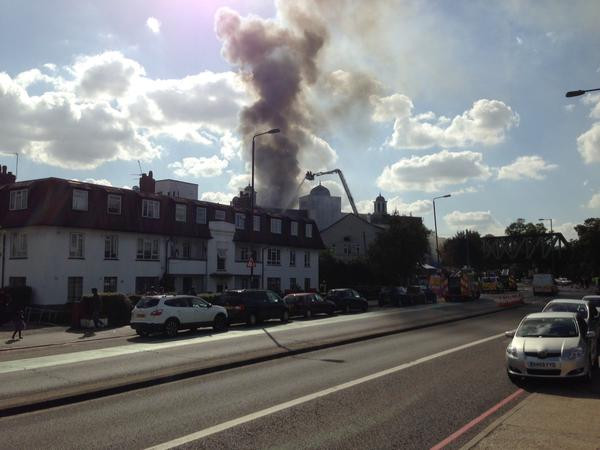 A Metropolitan statement said: "Police were called at 12.18hrs on Saturday, 26 September, to reports of a fire at an ancillary building adjacent to a mosque on London Road, Morden.
"On Sunday, 27 September, a 16-year-old boy and a 14-year-old boy were arrested on suspicion of arson. Both remain in custody at a south London police station."
The fire is understood to have taken hold and swept through the ground and first floors of the building that includes the mosque itself and a community hall. Crews from New Malden, Wandsworth, Tooting, Sutton, Mitcham and Norbury fire stations attended the incident. Roads were shut off surrounding the site, with drivers advised to take alternative routes away from the building.
Rafiq Hayat, national president of Ahmadiyya Muslim Community UK, said: "By the grace of God the mosque is safe and unaffected and there were no injuries and no loss of life.
"The swift action of the emergency services and by working closely with the community the fire was contained to the hall at the front of the building and some adjacent offices. We are extremely grateful for the support of the local community and leaders."