19:37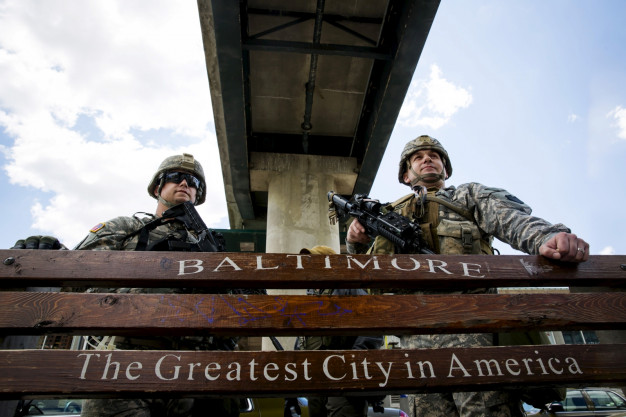 Following a day of intensely violent protests in Baltimore, Maryland, President Barack Obama condemned rioters, calling them "criminals" and "thugs". He added that the issues experienced in Baltimore and other cities between African Americans and police will require broader societal changes, the Baltimore Sun reported.
"If we are serious about solving this problem, then we're going to need to not only help the police, we're to have to think about what we can do—the rest of us," the president said during a press conference at the Rose Garden. "That's hard," Obama said. "That requires more than just the occasional news report or task force."
"If we really want to solve the problem, if our society really wanted to solve the problem, we could. It's just that it would require everyone saying, 'this is important, this is significant,'" Obama continued. "And we don't just pay attention when a CVS burns."
The president said that members of the Justice Department will visit Baltimore and are also investigating the death of Freddie Gray, who suffered a spinal injury while in Baltimore Police custody that led to his death.
Obama also took time to critcised those rioting. "That is not a protest. That is not a statement," he said. "It's a handful of people taking advantage of the situation. They need to be treated as criminals."
According to the Baltimore Sun, the riots on 27 April resulted in 144 vehicle fires, 15 structural fires and 202 arrests. Baltimore Police announced that the city will be under a general curfew beginning at 10pm EST on 28 April to 5am EST on 4 May.
During a Monday night press conference, Mayor Stephanie Rawlings-Blake said the city was working to reign in the rioters.
"Too many people have spent generations building up this city for it to be destroyed by thugs who in a very senseless way are trying to destroy what so many folks have fought for," she said.
"We are deploying every resource possible to try to regain control."
Maryland Governor Larry Hogan deployed National Guard members as the riots continued into the night.
In a statement released on 28 April, Hogan said, "As the state aggressively takes action to restore peace and order in Baltimore City, I want the citizens of Maryland to know that the state is fully engaged on all levels. National Guardsmen, Maryland State Troopers, and supplies have been sent to areas within the city and we will continue to provide resources as needed."
A complete list of law enforcement and services headed to Baltimore can be found here.
Monday's riots also led the Baltimore Orioles to postpone a game against the Chicago White Sox. On 28 April, the baseball team's Twitter account announced that a second game would be cancelled.
"After consultation with Baltimore City Police Department, tonight's game between the Orioles & White Sox at Oriole Park has been postponed," the team announced. According to Rolling Stone, the team's COO John Angelos issued a poignant statement on the ongoing protests.
"The innocent working families of all backgrounds whose lives and dreams have been cut short by excessive violence, surveillance and other abuses of the Bill of Rights by government pay the true price, and ultimate price, one that far exceeds the importance of any kids' game played tonight, or ever, at Camden Yards," he wrote. "We need to keep in mind people are suffering and dying around the U.S., and while we are thankful no one was injured at Camden Yards, there is a far bigger picture for poor Americans in Baltimore and everywhere who don't have jobs and are losing economic, civil and legal rights, and this makes inconvenience at a ballgame irrelevant in light of the needless suffering government is inflicting upon ordinary Americans."