Bang and Olufsen has unveiled three brand new products at IFA 2016, and it was a case of the good and the ugly for the premium audio and visual brand with futuristic wireless speakers on show alongside a 4K television that has a distinctly 1980s feel about it.
Known for its highly stylish design and reassuringly expensive price tags, it continued its philosophy with what it does best – audio – as two new wireless BeoSound speakers were revealed. Both are crafted from aluminium with a conical shape that look like they could fit in a contemporary home or on the set of Buck Rogers. Apart from looking shiny and futuristic, aluminium is a signature product for B&O, chosen for its acoustic properties with its stiffness reducing dissonance and distortion.
The smaller BeoSound 1 taps into the portable audio market with a lightweight, compact, battery-powered unit streaming sound via AirPlay, Google Cast, Bluetooth and DNLA, for £995. At 33cm tall and 3.5kg in weight it follows B&O's theme of 'flexibility' and could be placed on coffee tables, desks or taken on picnics without being an eyesore or too heavy to carry. Inside, two class D amplifiers power a 40 watt full-range speaker and a 20 watt woofer. The rechargeable speaker is said to be good for 16 hours of playback at moderate volumes or 4 hours at high volumes.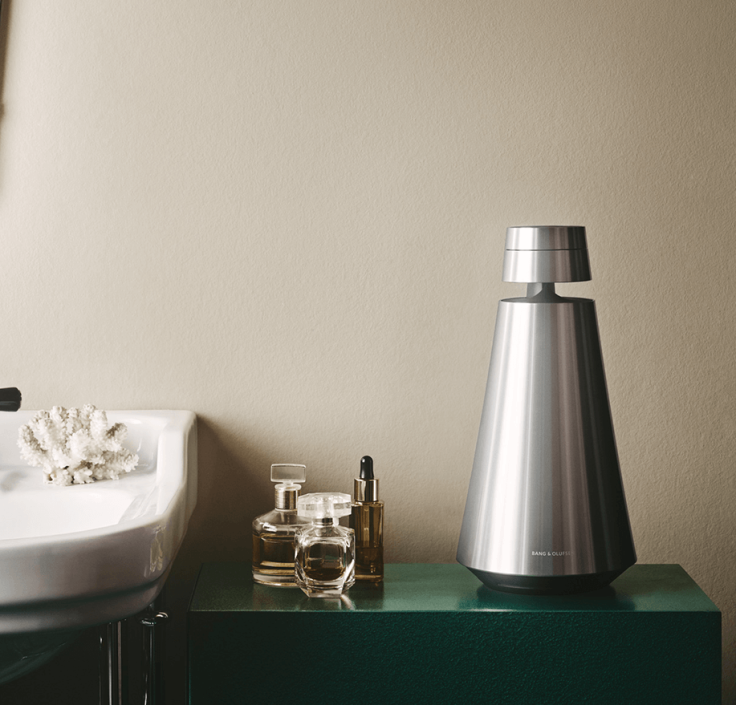 "We live in a time of cord cutting where everyone wants more freedom. No one wants to be hindered by technological restriction. BeoSound 1 & 2 are designed to cater for a flexible lifestyle," said Marie Kristine Schmidt, Vice President Brand, Design & Marketing at Bang & Olufsen.
Its bigger brother, the BeoSound 2, also crafted from aluminium and offering wireless audio stands at 43cm and a bit heavier at 4.1kg but it still offers a degree of portability. However, for in that bigger footprint and higher price at £1350 it comes with musclier audio prowess, with one 40 watt tweeter, two 11 watt mid-range speakers and two 20 watt woofers.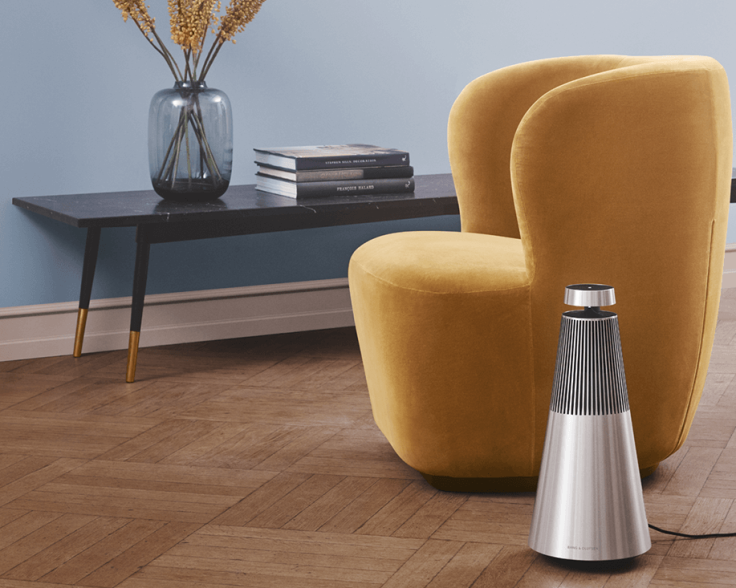 The shape of the speakers actually do more than lift the look of a living room – the open-topped cone offers 360-degree sound with each model using a rather unique sound dispersion method of its tweeter at the top playing audio downwards into a reflector, which then spreads the sound outwards.
BeoVision brings back the retro
B&O also unveiled its BeoVision Horizon – a 4K Ultra HD television at the show that tied in with its theme of flexibility. However, in an uncharacteristic move, managed to do so by making a less-than-attractive model that was wheeled out on casters. That's a TV with a starting price of £2,495, on wheels that remind us of sets teachers of the 80s and 90s would push out in the classroom.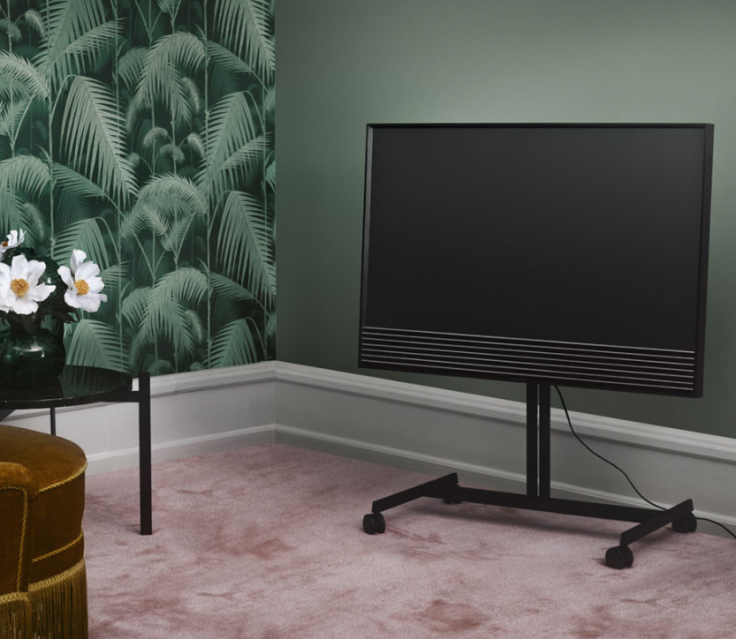 If you can avert your eyes from the disappointingly styled wheel stand the black aluminium set itself, which comes in 40in and 48in sizes, is super slim and minimalist with the ability to be used with interchangeable stands – phew. For a price there's a 360-degree swivel stand, leaning easel stand and wall mount.
We admit it might not look great but it's all in the name of practicality as it can be moved from room-to-room and will automatically use its built-in sensor to measure the difference in light to adjust the picture to its optimal settings.
The BeoVision Horizon is priced at £2,495 (40in) and £3,695 (48in).