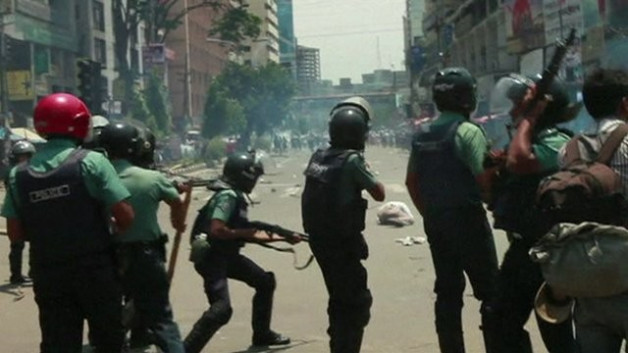 An estimated 50,000 protesters clashed with police in the Bangladeshi capital of Dhaka during a rally calling for tougher penalties against those found guilty of committing blasphemy
At least 10 people died and 75 were injured in the violence, which broke out after security forces firing tear gas and rubber bullets evicted about 20,000 protesters from a commercial district in the centre of the city.
Seven of the victims were killed in the clashes, and another three died in Kanchpur on the outskirts of the capital, according to the United News of Bangladesh. Among the victims were two police officers, a paramilitary officer and a 12-year-old boy.
The activists, members of the hardline Hefazat-e-Islami or "Protectors of Islam" party, are demanding the government enact tougher laws against blasphemy in the Muslim nation of 150 million.
The government, led by Prime Minister Sheikh Hasina, has rejected the calls, saying it must defend the principle of secularism.
Hefazat-e-Islami activists clashed with police and paramilitary forces after laying siege to the Motijheel district of the city that forms its commercial hub. Police issued a ban on further rallies taking place.
In Narayanganj, 14km from Dhaka, Islamists torched vehicles and fought pitched battles with police. Around 10,000 police and security services were deployed to disperse the protesters.
Bangladesh Sangbad Sangstha, the national news agency, put the death toll at 10.
Hefazat-e-Islami are calling for the introduction of mandatory Islamic education laws, and the execution of those found guilty of blasphemy.
They also demand strict segregation of men and women in public, a ban on statues, and the reinstatement of the words "absolute trust and faith in the almighty Allah" into the constitution.
They vowed to continue the protests until their demands were met. Commentators say the battlelines are being drawn over future policy in the country.
In February, thousands of youths staged a month-long sit-in in the Shahbag district of the capital, demanding the death penalty for those guilty of war crimes during the 1967 war that resulted in its cessation from Pakistan.
Hefazat-e-Islami branded Shahbag demonstrators "anti-Islamic atheists", and said they should be put to death for defaming Islam.
Syed Ashraful Islam, secretary-general of the ruling Awami League, said demonstrators set fire to the offices of the Communist Party of Bangladesh and ransacked several other office blocks in central Dhaka.
Smoke was still smouldering from rubbish heaps onMonday morning, with fires burning inside ransacked stores, and the streets littered with bricks, rubble and other debris.
The country is still coming to terms with the collapse of a factory last month in which more than 650 people died.