Barclays' chairman Sir David Walker has hit back at critics after the bank boosted bonuses in 2013 amid a raft of costly financial scandals and profit plunges.
Speaking at Barclays' annual general meeting, Walker defended the bank's decision to increase staff bonuses and incentive rewards to £2.38bn (€2.9bn, $4bn) in 2013, from £2.17bn in 2012.
"We took our decisions on remuneration in the belief it was necessary to protect our franchise. I am confident we took the right decision," he said, while also revealing at the same time that Barclays' first quarter profits will show a "small reduction" from a year earlier.
Barclays' 2013 financial results revealed that it will axe 12,000 jobs to cut costs as it posted a 32% fall in profits to £5.2bn.
The bank added that it is axing 7,000 jobs in the UK and 5,000 from across the globe as it aims to pare back its 140,000 total headcount.
Barclays has come under fire ever since it announced last year's results as bonuses rose while profits significantly dropped.
For example, Barclays' fixed income, currency and commodities (FICC) unit accounts for 60% of the bank's capital.
Investment banker payouts also rose by 13% year-on-year to £1.57bn despite income within this unit being down by 9% to £10.7bn.
Barclays' chief executive Antony Jenkins defended the group's decision in the aftermath by claiming that if the bank didn't ramp up extra pay rewards then it would lose its top talent.
However, public and political scrutiny immediately fell on bonus boss Sir John Sunderland.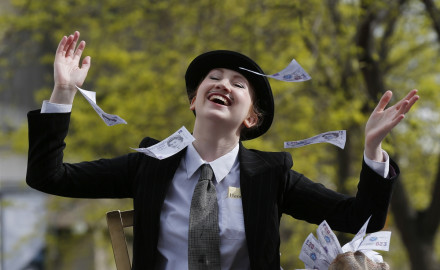 Sunderland famously said Bob Diamond deserved his 2011 £2.7m bonus, in spite of millions of pounds in Libor fixing fines being paid by Barclays under his tenure.
Barclays has since replaced him with City heavyweight Crawford Gillies.
The rise in bonuses and drop in profits lends further support to Britain's business secretary Vince Cable's comments that the correlation between the two is disproportionate and subsequently threatened Britain's biggest firms with tougher rules and regulation over executive pay and bonuses for the second time in a month.
The Financial Reporting Council has since backed Cable with proposals that companies should immediately be allowed to claw back top executives' bonuses where their firms have performed badly.