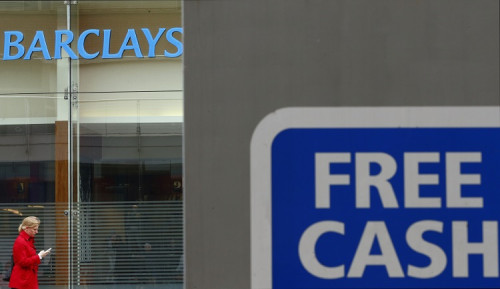 Barclays bumped up its bankers' bonuses year-on-year despite the spate of mis-selling scandals that has already cost the group billions of pounds in compensation and administrative payouts.
According to Barclays' full year results, the group increased staff bonuses and incentive rewards to £2.38bn (€2.9bn, $3.9bn) in 2013, from £2.17bn in 2012, despite the bank racking up hefty mis-selling compensation payouts, posting a drop in earnings and its chief executive Antony Jenkins forgoing this annual bonus.
Investment banker payouts also rose by 13% year-on-year to £1.57bn despite income within this unit being down by 9% to £10.7bn.
Overall, Barclays' adjusted profit before tax for 2013 stands at £5.2bn and statutory profit before tax of £2.9bn. The adjusted profit before tax number for 2013 falls below the £5.4bn analysts' forecast.
In July last year, Barclays called on investors for help to fill a £12.8bn capital black hole.
Jenkins
Barclays' boss Jenkins said he was abstaining from taking a bonus for 2013 after already turning down a £2.75m bonus the year before.
"2013 has been a year of considerable positive change for Barclays, and I am particularly proud of the progress we have made in starting to rebuild trust, in defining and implementing a common culture, in repositioning the business for the future, and in significantly improving our balance sheet," Jenkins said in a statement this month.
"While all of these actions are in the long-term interests of our shareholders, I am aware of the very significant costs which have been required to address legacy litigation and conduct issues in 2013, as well as to exit assets and businesses we no longer wish to participate in.
"When combined with the substantial rights issue we completed in the autumn, I have concluded that it would not be right, in the circumstances, for me to accept a bonus for 2013, and I have therefore respectfully declined the one offered to me by the Board."
However, Jenkins still pocketed a remuneration package worth £8.6m.
Jenkins, joined the bank in August 2012 and took over from Bob Diamond, has been fire-fighting a number of market manipulation and mis-selling scandals that have dented the banks reputation and has resulted in billions of pounds in costs and compensation.

Jenkins sought to turnaround the Barclays' tattered reputation by sending out a memo to the bank's 140,000 employees saying performances and rewards would be judged against a set of core values, including integrity and respect for others.
"The notion that there must always be a choice between profits and a values-driven business is false. Barclays will only be a valuable business if it is a values-driven business," said Jenkins.
"[T]here might be some who don't feel they can fully buy into an approach which so squarely links performance to the upholding of our values. My message to those people is simple: Barclays is not the place for you. The rules have changed. You won't feel comfortable at Barclays and, to be frank, we won't feel comfortable with you as colleagues."
Mis-selling Scandals and Others
In 2012 the bank was hit with a £290m fine from UK and US regulators over attempts by some of its traders to manipulate a key benchmark rate, Libor, in their favour.
Barclays has also put aside £2bn to cover the cost of its mis-selling of payment protection insurance (PPI) to customers, and billions more to cover the mis-sold interest rate hedging products.
It dodged a €690m fine from European regulators for operating in a banking cartel in the euro interest rate derivatives market because it blew the whistle. Its co-conspirators were Deutsche Bank, Société Générale and RBS.
Meanwhile, Barclays could face another set of fines after the bank revealed that it has launched an investigation into how 27,000 customers' data had been stolen and sold on the black market.
Barclays said in a statement on 9 February that it has notified regulators over the data breach and started a probe.
"This appears to be criminal action and we will co-operate with the authorities on pursuing the perpetrator," said Barclays.
It added that its initial findings suggested that the files were linked to the Barclays Financial Planning business, which closed in 2011