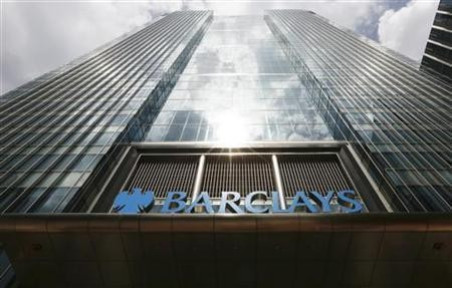 Barclays has revealed that it is slashing headcount, changing its pay and bonus structure and will reduce its assets by £80bn in a bid to cut costs.
Speaking on an analyst call, following its results announcement, chief executive Antony Jenkins unveiled his plans to reduce costs across one of Britain's biggest banks.
"I can say with certainty that over time we will achieve more than the £65bn (€76bn, $104bn) to £80bn reduction we committed to in July," said Jenkins, He was referring to a plan to help Barclays meet a 3% leverage ratio set by regulators, after it posted a multi-billion pound black hole in its balance sheet.
He also said that decisions on pay, bonuses and headcount cuts have not yet been set in stone.
"Headcount will reduce due to automation but [we] expect that to be by attrition over time," he added.
Barclays posted a 26% fall in profit in the third quarter for the investment bank. This follows a raft of changes undertaken to distance Barclays from a traditional investment banking that is seen to help the wealthy.
Under Jenkins' reform, dubbed the Transform programme, Barclays has pared back a number of money making units in a bid to present itself as a more retail-friendly consumer facing brand.
Jenkins, who joined the bank in August last year, has a total potential pay package, including pension, basic salary, and incentives worth £8.6m but he snubbed a potential £2.75m bonus after saying it would be "wrong" to receive extra compensation due to the number of mis-selling and market manipulation scandals that have rocked the bank.
"The year just past was clearly a very difficult one for Barclays and its stakeholders, with multiple issues of our own besetting the bank. I think it only right that I bear an appropriate degree of accountability for those matters, and I have concluded that it would be wrong for me to receive a bonus for 2012 given those circumstances," said Jenkins.
"I am aware of considerable speculation about, and public interest in, the question of whether I will be awarded a bonus in respect of my performance in 2012. To avoid further unnecessary public debate on this matter, I wish to make clear that I concluded early this week that I do not wish to be considered for a bonus award for 2012, and I have communicated that decision to the Board."
Shake-Up in Management
Following Barclays' settlement with US and UK authorities for manipulating Libor in June last year, the bank lost its Chairman Marcus Agius, CEO Bob Diamond and COO Jerry Del Missier.
The ex-Barclays chiefs still had to face a number of UK parliamentary grillings over the banking culture at the group, which lawmakers claimed led to the fixing scandal.
Barclays' retail chief Jenkins ended up taking the helm and is now the new CEO at the group, where he vows to turn around the way the bank operates and the environment which has been described as "toxic" by policymakers.
On 17 January this year, new CEO Antony Jenkins sent a memo to the bank's staff saying performances and rewards would be judged against a set of core values, including integrity and respect for others.
"The notion that there must always be a choice between profits and a values-driven business is false. Barclays will only be a valuable business if it is a values-driven business," says Jenkins in the memo.
"There might be some who don't feel they can fully buy into an approach which so squarely links performance to the upholding of our values. My message to those people is simple: Barclays is not the place for you. The rules have changed. You won't feel comfortable at Barclays and, to be frank, we won't feel comfortable with you as colleagues," adds Jenkins.