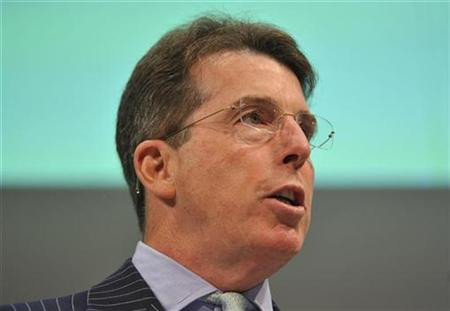 Shares in Barclays were down on the FTSE 100 in morning trading after the group reported a fall in pre-tax profit in the three months ended 31 March.
Pre-tax profit in the period declined nine per cent from the same period the previous year to £1.7 billion, thanks mainly to a decline in investment banking. Total income at the group dropped eight per cent to £7.4 billion.
The group's retail and business banking division saw pre-tax profit increase 21 per cent to £692 million. However investment arm Barclays Capital saw top line income drop 15 per cent to £3.3 billion.
Barclay's impairments fell significantly from £1.5 billion a year ago to £921 million.
The group said that it would be holding its first quarter dividend at 1.0 pence per share.
Bob Diamond, Chief Executive of Barclays, said, "We have made a good start in 2011 in a challenging external environment. Another solid quarter of profits has further strengthened our Core Tier 1 ratio to 11%. We are making good progress on execution in line with our strategic priorities, with costs and risks carefully managed in the quarter, and our returns on equity and tangible equity (excluding own credit) above 10% and 12%, respectively.
"We continue to engage actively with governments and regulatory bodies in the UK and internationally on banking reform. We are committed to assisting the process of change and are aligned with the objectives of reducing the risk of failure of financial institutions. We believe that resolution plans will play a vital role in allowing a bank to fail while ensuring that essential banking services remain operable. We are proactively engaged with the UK Financial Services Authority, the Financial Stability Board and at a G20 level to help develop and put in place such plans on a cross-border basis.
"The Interim Report of the Independent Commission on Banking ("ICB") in the UK raises many issues and questions which will require detailed discussion and further specification in the coming months to ensure that its final recommendations can be practically implemented and that the consequences are properly analysed. We have had a constructive dialogue with the ICB to date, and continuing that will be an important priority for us as we are determined to play a responsible role in the formulation of the reform agenda and to facilitate economic growth in the UK by providing access to credit-worthy individuals and businesses."
Richard Hunter, Head of UK Equities at Hargreaves Lansdown Stockbrokers, commented, "Disappointment that Barclays has failed to keep pace with some of its global peers has been reflected by a dip in the share price in early trade.
"Banks in general remain in a difficult place. The uncertainties surrounding regulation, capital reserves and credit availability are overarching, whilst on a local level the current challenges the economy face provide another obstacle. The company's flagship investment banking arm has found trading difficult, although on the upside loan impairments in the retail division have made notable positive progress. Barclays remains committed to pruning those operations which do not fulfil its objectives, whilst its geographical diversification should leave it well placed to benefit from any economic upturns.
"In all, the concerns have been somewhat priced in, as the shares have given up 19% over the last year as compared to a 8% gain for the wider FTSE100. Whilst a number of challenges remain in view for the foreseeable future, the general market view implies some optimism in rating the company as a cautious buy."
By 08:30 shares in Barclays were down 3.61 per cent on the FTSE 100 to 290.95 pence per share.