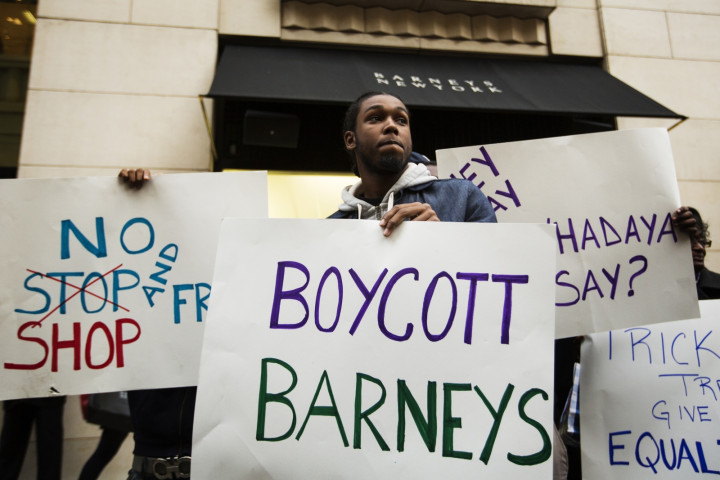 Barneys has agreed to pay $525,000 (£312,000) in fees and penalties to settle racial profiling allegations brought against the upscale department store.
New York attorney-general Eric Schneiderman launched an investigation after the company became embroiled in a race row in 2013. Two black customers sued the retailer claiming they were unlawfully questioned and detained after making expensive purchases.
In February, pregnant nursing student Kayla Phillips claimed she was approached by police after purchasing a $2,500 Céline handbag from the store.
In another case, Trayon Christian of Queens, New York, sued Barneys and the NYPD claiming they targeted him as a 'young black American male' after he bought a $349 Ferragamo belt at the shop's Madison Avenue address in Manhattan in April.
Although he used his debit card and showed a clerk his ID, he was arrested by police, who said someone at the store had raised concerns over the sale and the authenticity of his proof of identity.
"The detectives were asking me, 'How could you afford a belt like this? Where did you get this money from?'" Christian told the New York Daily News.
In the wake of his arrest, anger erupted amongst the black community and thousands of fans signed a Change.org petition urging rap mogul Jay Z to end his partnership with Barneys in support of the community he grew up in.
"Jay-Z should be appalled by Barneys' actions, and withdraw all support from them. If he does this, he will send a clear message to all corporations that are like-minded that this behavior cannot be tolerated any longer," the petition read.
Schneiderman has now concluded that Barneys detained a 'disproportionate number of African-American and Latino customers' for alleged credit card fraud or shoplifting.
"Profiling and racial discrimination remain a problem in our state, but not one we are willing to accept," he said.
"This agreement will continue our work to ensure there's one set of rules for everyone in public accommodations, including customers in New York's retail establishments. This agreement will correct a number of wrongs, both by fixing past policies and by monitoring the actions of Barneys and its employees to make sure that past mistakes are not repeated."
Under the terms of the settlement, Barneys must investigate all racial profiling cases, and also employ an independent anti-profiling consultant.