Batman Arkham VR review: The Dark Knight strikes again in limited but fan-pleasing PSVR experience
Rocksteady Studios' returns to the Arkham universe for one final investigation on Sony's virtual reality headset.
NOTE: This article is a contribution and do not necessarily represent the views of IBTimes.
At E3 in June, Sony dedicated the PlayStation VR portion of its lavish press conference to the big name brands heading to virtual reality on PS4. Virtual reality modes are coming to Star Wars Battlefront and Final Fantasy 15 over the months ahead, but the biggest name at launch is Batman.
Many thought Rocksteady's involvement with the Arkham series ended with 2015's Arkham Knight (including, most likely, the studio itself) but they've since turned in this launch title for PlayStation VR.
Rocksteady's celebrated Arkham games rank among the best superhero titles ever because they are distinctly the product of a team with a vision. Alumni of the classic 90s cartoon series, Kevin Conroy and Mark Hamill, give some of their best performances as Batman and the Joker, in stories that offered players the chance to take on numerous villains from the Dark Knight's rogues gallery.
At the core of each game is the idea that players become Batman, feeling every bit the powerhouse, every bit the detective that he is. This is also at the root of Arkham VR, a short and sweet Batman story set between Arkham City and Arkham Knight, which sees Batman investigating a brutal murder one night in Gotham.
An opening sequence sets the tone well. After a quick chat with loyal butler Alfred, the player taps out a few notes on Wayne Manor's grand piano, with two PlayStation Move controllers working as their in-game hands. This takes Bruce down into the Batcave. On his way he's presented his suit, which the player puts on piece by piece before learning to use Batarangs, a grapple hook and an environmental scanner.
This sequence is effective for its fan-pleasing thrills if nothing else. The highlight is when the player is able to look into a mirror and "see" themselves as the Batman character model, which moves in tandem with the player's own head and hand movements. This mirror sensation is used later on in the game to great effect.
Interaction with the game world is fairly minimal. The player is always rooted to the spot, only able to move through passageways and across rooms instantaneously with the touch of a button.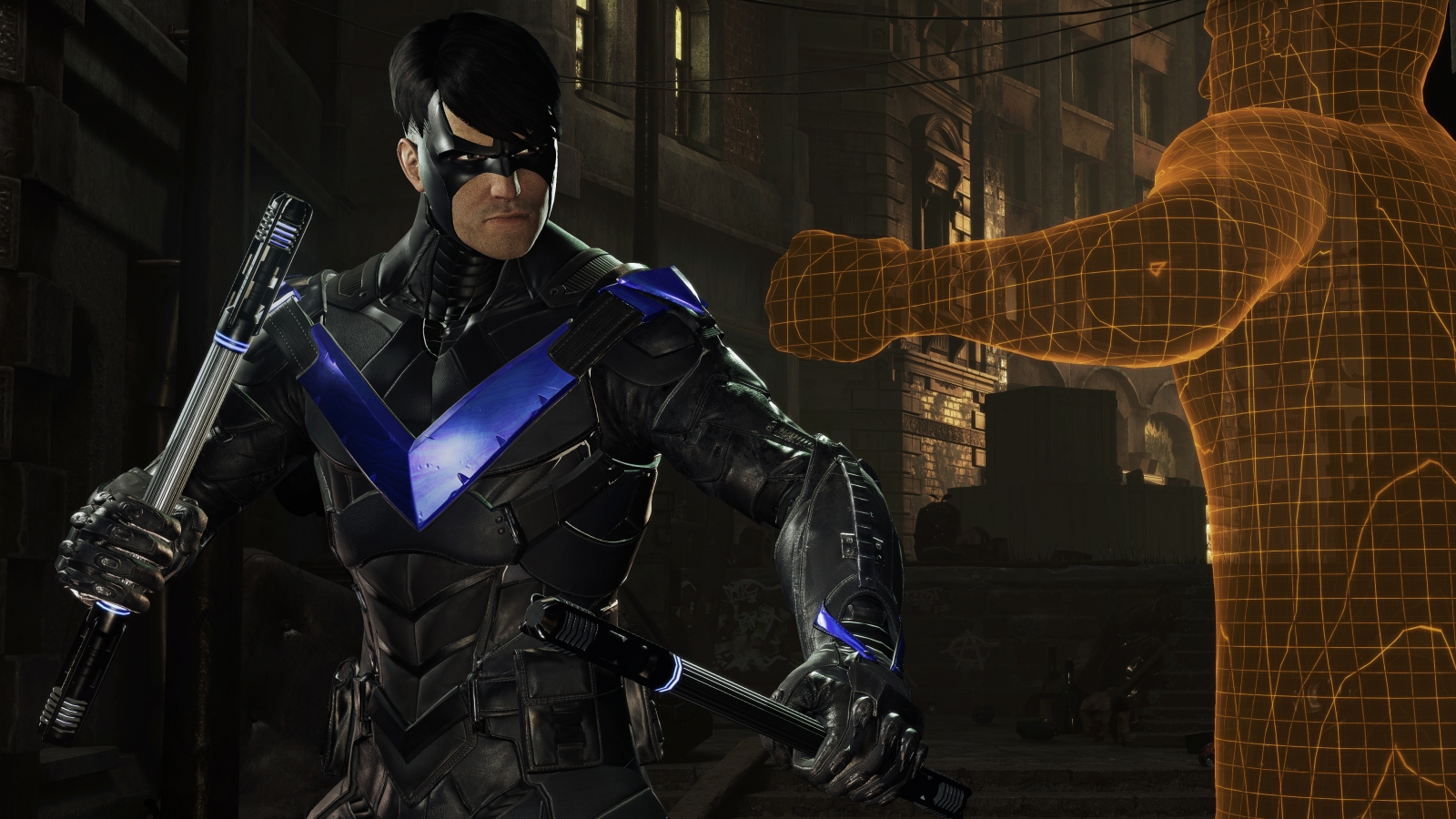 During the roughly 45 minute story, players encounter a number of gameplay elements that will be familiar from past Arkham games. They'll run through reconstructed crime scenes, scan dead bodies, grapple objects and throw Batarangs at others. All but the latter work perfectly well, with the aim of Batarangs largely automated due to their inaccuracy otherwise.
We were constantly aware of the limitations in place in terms of interactivity. There's no action and plenty of cuts to black replacing potentially nauseating movement animations. Great design, from characters to the Gotham setting, are enough to hook you in however. The character models are particularly great, even close up, showing what PlayStation VR is capable of, if only when the player is limited to small areas. A game like Driveclub VR for example makes a fair few visual sacrifices to ensure that it can offer driving along large, open tracks.
Arkham VR is a limited game but a robust experience, with only some replay value through collectable Riddler trophies dotted around subsequent playthroughs. Like many other VR games it serves well as a showcase for the possibilities of virtual reality, but doesn't offer players an experience with any real depth.
PlayStation VR launch game reviews:
© Copyright IBTimes 2023. All rights reserved.