The latest episode of Telltale Games' Batman series, The Enemy Within, includes a real life photo of Russian ambassador Andrei Karlov after he was assassinated in December 2016 during the opening of an art exhibition.
Karlov was shot point blank by a Turkish police officer in front of a crowd of cameras at the opening in Ankara, with photos taken immediately before and after the killing seen around the world.
One, taken after the assassination by Hasam Kilic, shows Karlov's body lying at the feet of his killer. It's this image that the developers at Telltale have used in their game.
The developer responsible cut out Karlov's body, compositing it with in-game art to create a photo of a Gotham City crime scene.
The in-game picture depicts security camera footage from a break-in at Gotham Brokerage, showing a body in front of an open vault.
Telltale is yet to address the use of the photo. IBTimes UK has reached out to them for comment.
Whoever used the photo likely did so unaware of its origins and didn't do their due diligence in sourcing the image.
Batman: The Enemy Within is the second season of Telltale's episodic series, continuing on from last year's successful debut. This second episode of the season focuses on the introduction of fan-favourite character Harley Quinn, who is linked to the Gotham Brokerage break-in.
The bizarre occurrence was spotted by Bro Team Pill, and shared on Twitter.
You can see the full in-game screenshot and source photograph side by side below.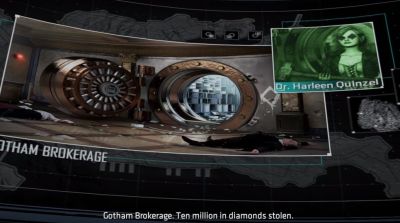 It can be all too easy for games to mistakenly create assets from unchecked sources. While not as bad as putting a literal dead body in its game, Naughty Dog was forced to apologise after fans spotted concept art from Assassin's Creed 4: Black Flag in a trailer for Uncharted 4: A Thief's End.
The developer promptly removed it before the release of the final game.