What seems to have been troubling the iPhone 6 and iPhone 6 Plus owners is the battery life after installing the new iOS 8.1 update.
There could be a number of possible reasons for this, starting from updated iPhone and iPad with re-index files to the increased usage while exploring the new features Apple has stuffed into the new mobile operating system. Besides, the reasons vary for different users.
BGR has claimed to have received complaints from several owners about the significant battery draining issue after iOS 8.1 update. Additionally, users have reported the same on Reddit.
"Hopefully this doesn't get down voted to the bottom. First pic is iOS 8.0. Battery life was crazy good. After I've installed iOS 8.1 my battery life drains a lot quicker. I haven't been using the phone any differently. Notice similar usage stats but also notice the battery percentage in the upper right corner," says a Redditor named keithkman.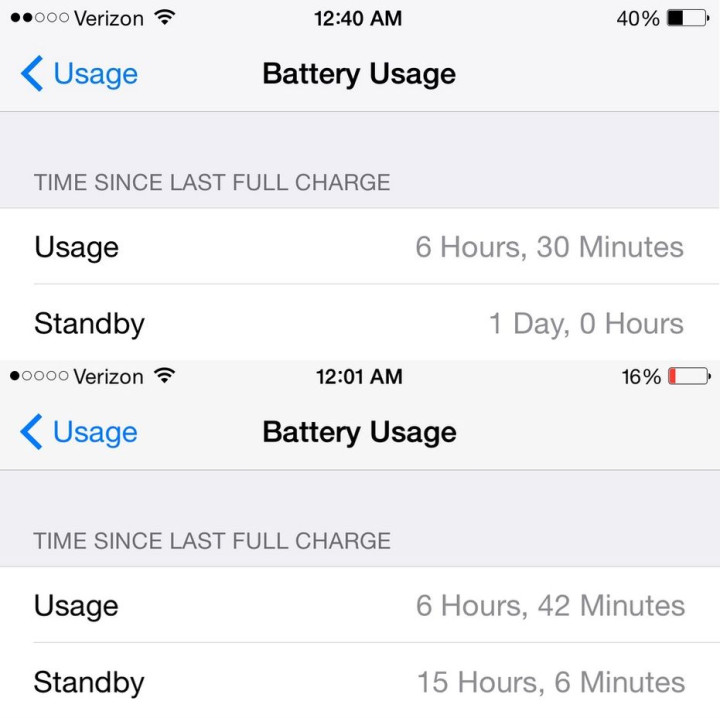 Fix for battery drain issue
If you are among those who are facing a similar battery issue, don't worry as there is a fix available for this. Another user by name DatGuyWitDaGlasses has reportedly contacted Apple support via chat and has recommended resetting all settings to resolve this.
"I contacted Apple support and went into a chat room with a Genius with the same issue. I was recommended to go to my settings and "Reset all Settings". Apparently I had a lot of system programs crashing in the background, and once I reset my settings my battery life returned to normal. If this doesn't work out for you, I recommend you contact apple support and see if they can help you in some way."
This process will not remove any data but change wallpaper back to factory setting, change ringtones, turn off passcode and forget Wi-Fi passwords. This trick has resolved the battery issue for a number of users.