Following on from the short teaser that was released back in May, the first full-length trailer for Disney's Beauty And The Beast was released on Monday 14 November on ABC's Good Morning America. Just like the animated classic, which was first released in 1991, the reboot once again tells the story of Belle, a young dream-prone girl who falls for a mysterious prince who is cursed to look like a beast for the rest of his days...or until he finds his one true love.
While the first look footage merely gave fans a glimpse of the gorgeous live-action world director Bill Condon and co have created for the big screen, the new sneak peek builds on it depicting scenes of snow-covered mazes, fire-lit dungeons and ornate castle libraries.
The trailer also allows viewers to see Emma Watson's protagonist properly for the first time, as well as Dan Stevens and Luke Evans' respective debuts as the princely Beast and Gaston... (recently released images aside).
To avoid giving away any of the new visuals the film will undoubtedly have to offer, the trailer sticks to scenes lovers of the original will likely recognise. From the harrowing wolf attack and Belle's father pleading with her to get out of the castle amidst saving him, Belle urging the Beast to "come into the light" to the unlikely pair stroking Belle's horse Philippe and of course, dancing in the ballroom, the nostalgia is strong with this one! A particular shout-out has to go to Stevens' voice acting when it comes to the Beast too, it's evident the Downton Abbey actor was inspired by Robby Benson's work in the animation and boy, is the result something special.
Joining Watson and Stevens on screen is Oscar-winner Kevin Kline, who is on board to play Maurice and Frozen's Josh Gad is set to portray LeFou, Gaston's bumbling sidekick. Emma Thompson can be heard in the trailer as lovable teapot Mrs Potts while Black Mirror's Gugu Mbatha-Raw will be lending her voice to Lumiere's girlfriend Plumette (Fifi in the original animation) in the film. Fan favourites Lumiere the candlestick and clock Cogsworth are played by Ewan McGregor and Ian McKellen respectively. Featuring new songs composed by Alan Menken and Tim Rice, Beauty And The Beast is scheduled to reach both UK and US screens on 17 March 2017.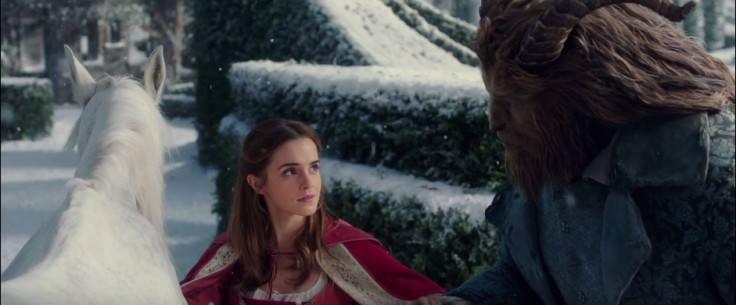 For more entertainment news follow A-List on Twitter @Alistinsider