There are 3,000 people – almost all teenage girls – attending the first ever BeautyCon London (BCL) event inside the enormous hangar that is London Olympia. Most, my 11-year-old daughter included, are quaking with excitement: there are squeals and flashes as famous YouTubers are spotted, shuddering bass sounds from the PA ratchets up the excitement. I have just one question: what's it all about?
For two hours, we've walked round this huge, bustling yet strangely empty arena, past nail bars, eyelash gurus, overpriced cosmetics, glam-makeovers and third-rate hot dogs served by surly salesgirls, and I'm still none the wiser. Pink is the primary colour at BCL; what with the booming pop, flashing lights and empty slogans, it's like a JG Ballard wet dream, a neon Nuremberg.
BeautyCon London is an event, no question – a major one, judging by the pre-event hype, important-looking people in important-looking clothes, faux-TV crews excitedly interviewing celebrities I can't quite place. It feel like the red carpet on Oscars night, yet with nothing tangible to celebrate. I'm feeling distinctly out of place – but then, the target audience of BCL probably isn't a greying 48-year-old embittered male hack. So who is BCL aimed at?
"It's like... Lollapalooza," BeautyCon's CEO and founder Moj Mahdara explains. "There was nothing like it that caters for 16 to 24 year-old girls."
Mahdara – who, I would hazard, is also somewhat older than BCL's target audience – says it's like a music festival for today's digital generation: it's about finding your inner beauty, about empowerment, about creativity. But what's being created apart from a carbon footprint the size of the Atlantic?
Still mystified, I take another walk around this empty temple. BCL isn't like any festival I ever attended. The only music is the booming guff you hear on commercial stations. Instead of rock stars there are YouTubers, made famous simply by being, as Moj puts it, "vulnerable, fun, authentic"; instead of tie-dye T-shirts there are pink Beauty Con T-shirts costing £15.
So far as I can gather, the themes of the event – which, of course, originated in the US before arriving in the UK – are empowerment, finding inner beauty, being strong, positive, supportive: Girl Power. And it's true that most of the tweeny crowd look happy and confident, and are multi-ethnic: there are girls in Hijabs, and in wheelchairs, and from every background. The only people excluded, it seems to me, are the poor.
A basic ticket costs £35, but that won't take you far. The main draw of the event is to meet YouTubers such as CookieMonster and Tyler Oakley, who for reasons I cannot explain appeared on The Ellen DeGeneres Show. To meet these guys without standing in line for a geological length of time, you need a Pro ticket – which costs £95.
If you're feeling really empowered, a platinum ticket costs £175 and enables "Expedited entry line pass and early entrance to BeautyCon London beginning at 9am, access to the talent lounge for the first hour of BeautyCon, BeautyCon T-shirt & gift bag filled with product". No, me neither.
Just in case you're still in doubt about BCL's primary raison d'être, I refer to the website: "SO, you'll arrive with your crew (aka bestie, Mom, Dad, siblings) or come by yourself! If you do, don't even fret! SO many of you come alone and end up making new best friends. From the moment you enter, you have free rein to do all the things, ALL THE THINGS. There are vendors selling products and will accept credit cards if you don't bring cash."
So, what are "ALL THE THINGS"? On the main stage a number of panels take place, mostly young, beautiful people discussing "#GirlProbs" and "the Business of Beauty". A smiley girly interviewer asks the panel Paxmanesque questions such as what would you all be doing if social media hadn't turned you into superstars?
"I'd like to write more," says the token boy panellist. "I like writing."
"I'd probably be a dog-walker," says a girl panellist. She giggles. "I love dogs!"
It's all riveting stuff. My daughter tells me one of the most famous bloggers, Zoella, once did a blog on 60 things I have in my bedroom. So far it's attracted 1.4 million hits and 25,000 likes. All those hits mean big business: corporate sponsorship, your waxwork in Madame Tussauds, Equity-busting voice-overs and book deals.
Here's what a saleswoman from Penguin, which published Zoella's debut "novel", Girl Online, told the Sunday Times: "As with many new writers she got a lot of help in bringing that story to life." I'm dimly recalling being a 24-year-old aspirant author.
And here's what Dominic Smales, Zoella's manager at Gleam Futures, told the paper about his client's literary talents: "When you work with an editor... there are ways that the editorial consultant helps you craft the story and the characters and all that sort of stuff." Ah yes, story, characters, all that sort of stuff...
Still, at least Zoella's book has some sort of discernible narrative. In 2014, my daughter also pestered me to buy the tome by Zoella's brother (or boyfriend, I'm not sure...) Alfie Deyes – The Pointless Book. She'd read it by the time we got home – perhaps no wonder, when the pages are either blank, or contain nuggets of wisdom such as "iron the creases out of this page". A snip at £8.99.
Although Zoella and Alfie aren't here, some of my daughter's other heroes are. We join the queue to meet Sierra Marie Makeup. Most of those waiting are aged between 14 and 18, a few, worryingly, much older. On turning a final corner, seeing their heroes in the distance, their jaws drop, their eyes bulge. They remind me of black-and-white clips of Beatlemania, or Bobby-soxers screaming at Frank Sinatra.
After 90 minutes in line (if only we had the platinum pass!) we are finally before Sierra. She gives my daughter a hug and poses for the obligatory selfie and we move on. My daughter admits she almost cried: others, twice her age, actually sob. Later, we queue to meet Alisha Marie, MamaMiaMakeup (I swear I'm not making these names up) and Claudia Sulowski; much as I want to dislike them, I can't. They are all young, lovely and polite, and manage to keep smiling even after hours of posing for selfies with fans.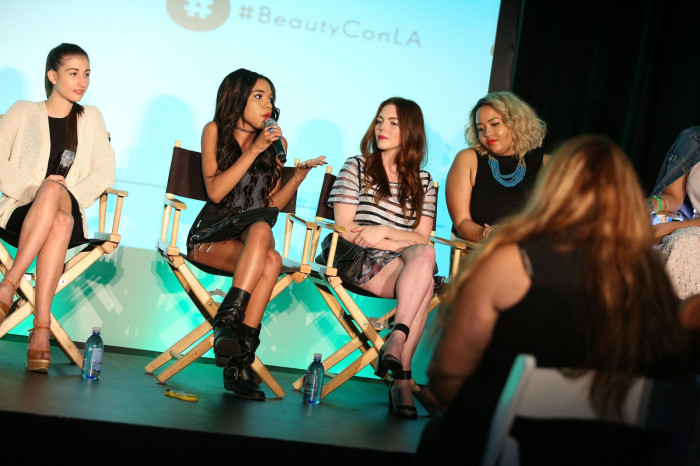 It isn't their fault, these flawless children of the digital age, no doubt they started out in their bedrooms, recording a video diary of their lives. I kept a diary too, as a teenager: I wrote about despair and poverty, and my fears for the world. What do they talk about, these Millennial Gods?
Maybe I should watch one. But I can't – I just can't – so I ask my wife and daughter. Apparently they don't only talk about make up and clothes. Some talk about weight and other weighty issues; one (I forget who) is a single mum.
I bet they all say the environment's like, really important guys, too. Almost all seem like nice, cheerful, middle-class kids doing what kids have always done: talked about their day. So that's where it starts, in your bedroom with a cheap webcam. And this is where it ends, with merciless corporatism, in empty temples to Mammon.
I think I understand what Mahdara is implying. This is punk: do it yourself. Take control. Except with punk, the idea was to sneer at authority, reject the system, tear down the statues and build something better. Now, you vacuum up as much corporate sponsorship as you can and smile up the selfie-stick.
This isn't simply a BCL or YouTube phenomenon, it's a phenomenon of youth, one events like this can only reflect. But where are the snarling bands, the angry young actors, the authors with twisted passion in every word they write? Switch on the news. Look out of the window. Is there really so little to be angry about?
Still. Having said all that – my daughter loved every minute of it.
(Mark and his daughter were guests of BeautyConLondon).