Belarus: Border Guard Jailed over Teddy Bear Paratroopers Invasion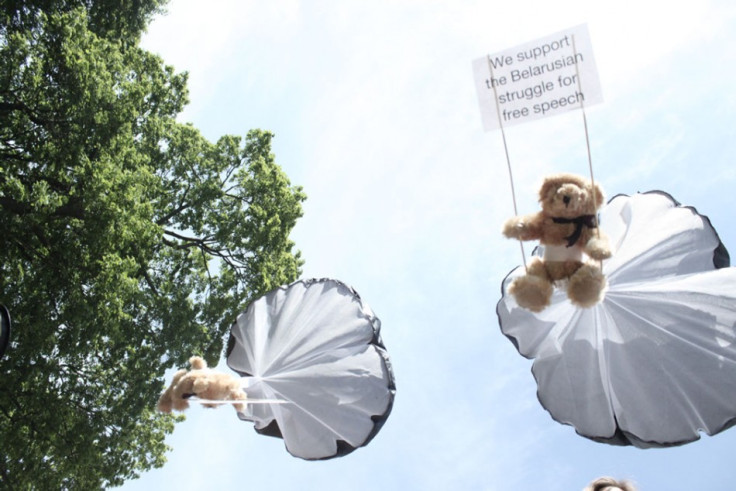 A Belarusian court has sentenced a border guard to two years in jail for failing to prevent the landing of a convoy of teddy bear paratroopers.
The country's Supreme Court said the officer - whose name hasn't been revealed - has been convicted for failing to report an intrusion and will serve his sentence in a high-security prison.
Eight hundred teddy bears carrying pro-democracy messages were dropped over the town of Ivenets, a few miles from Europe's last dictatorship's capital of Minsk from an aircraft, in July.
Launched with little black parachutes, the teddy bears bore labels calling for freedom of speech and human rights.
Belarus president Alexander Lukashenko reportedly went berserk, after the plane chartered by Swedish public relations firm Studio Total entered Belarusian airspace from Lithuania, encountering no opposition.
"How do you explain the provocation with the airplane that not only crossed our borders but entered the territory of Belarus unpunished? Was this the stupidity of specific actors or systemic mistakes in the defence of the airspace?" Lukashenko asked his security officials after the bears' invasion.
Lukashenko subsequently sacked Belarus's air force and border security chiefs.
The incident also triggered a diplomatic crisis between Minsk and Stockholm, with Belarus expelling all Swedish diplomats, including the ambassador Stefan Eriksson, and the Scandinavian country ousting two senior Belarusian diplomats and refusing to admit a new ambassador.
Belarusian Blogger Anton Suryapin and real estate agent Sergei Basharimov were arrested on complicity in "illegal intrusion" charges in connection with the case, and later released.
Two female journalists - Irina Kozlik and Yulia Darashkevich - were also fined 3 million Belarusian roubles (£225) for taking part, and holding a teddy bear, in a demonstration in Minsk in support of Suryapin and Basharimov.
Studio Total said the stunt was designed to draw media attention to human rights violations in Belarus.
"We prosper in a world that ... last month only, wrote 109 000 articles about Kim Kardashian and 79 on the Belarusian opposition," a statement from the firm read.
"So we bought a plane and put together a campaign that our professional instinct told us had at least a tiny chance of slipping in the words "Belarus" and "free speech" somewhere between the news about iPhone 38 and Miss Kardashian's cat."
© Copyright IBTimes 2023. All rights reserved.