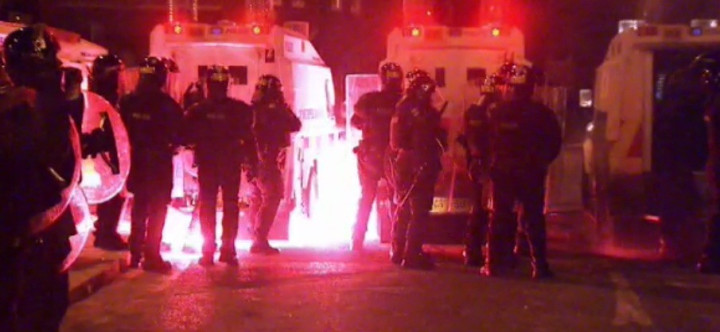 Northern Ireland's first and deputy prime minister have called an emergency meeting following a third night of sectarian violence in Belfast.
Three more officers were injured on the evening of 4 September as fireworks and other missiles were hurled at police, after a crowd of around 200 people gathered on Denmark Street in the north of the Northern Irish capital.
More than 60 officers have now been injured in the last 72 hours of rioting, which was sparked by a Loyalist band playing near a Catholic church.
First Minister Peter Robinson and Deputy Minister Martin McGuinness have arranged a meeting at Stormont Castle, which will be attended by north Belfast MP Nigel Dodds and members of Northern Ireland's Legislative Assembly [MLAs].
Meanwhile a senior police officer has called for "all those with influence" to help bring an end to the violence and warns there will be deaths if it is not brought under control.
Assistant chief constable Will Kerr of the Police Service of Northern Ireland said: "Northern Ireland cannot afford an 11th hour solution. I urge all those with influence to urgently use it to bring a resolution to the violence and work towards a longer-term solution for the issues affecting this area.
"There is a very real possibility that somebody will be killed over the next few days and weeks. It's that serious. We need this fixed now, in the next few days."
Kerr's has urged politicians and community leaders to sort out the issues before the planned Loyalist parade on 29 September, which marks the 100th anniversary of the signing of the Ulster Covenant.
Three men aged 18,19, and 20 have been charged with riotous assembly following the violence at Carlisle Circus on 3 September.
The 19-year-old is also charged with resisting police, indecent behaviour, possession of a blade in a public place and three counts of assault on police. The 18-year-old is facing three counts of assault on police.
All three are due at to appear Belfast Magistrates Court on Wednesday.