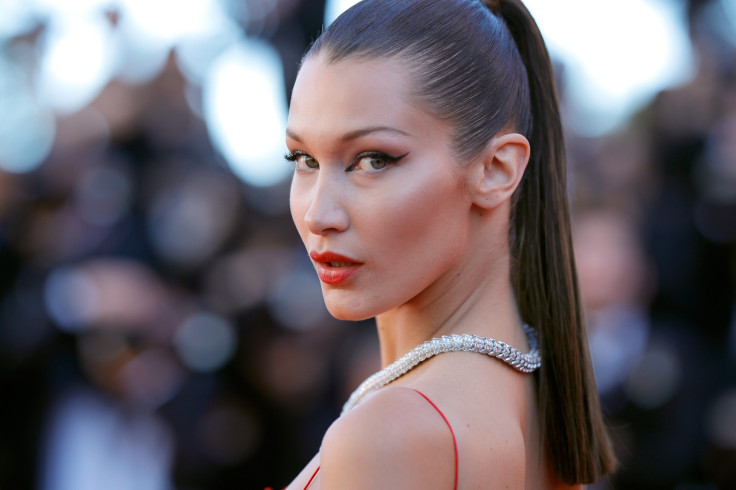 Bella Hadid is not shy of going topless and frequently flaunts her well-toned physique on social media. The 20-year-old took to Instagram on Thursday (6 July) to post photos from her daring new photoshoot for V Magazine on Instagram.
The images feature Hadid wearing nothing but a pair of shorts as she covers her modesty with her hands. She teamed her raunchy look by wearing a fancy diamond jewellery ensemble for the publication.
From a stack of diamond encrusted bracelets to necklaces and rings, the Victoria Secret model showed off several exquisite Bulgari accessories throughout the shoot. She captioned the post on Instagram as, "Killer and a sweet thing @VMAGAZINE BY @TERRYRICHARDSONFOR @BULGARIOFFICIAL Styled byb fairy Boss mother @CARLYNECERFDEDUDZEELE #STEPHENGAN @REMIBRB #JUSTENOUGHDENIM ".
The second picture shows Bella sporting an open denim jacket that barely covers her bosom. She paired it with a matching Daisy Duke style shorts and completed her look with a lot of accessories.
While most fans called the photos "beautiful" and "gorgeous" some branded her as "shameless". A user commented, "There's nothing to say about it."I'm so proud of being Muslim" - Bella Hadid.. Yeah go ahead u shameless."
Another noted, "Shameless creature." Some even threw shade at her for her cultural background. "And I have to believe that you are Muslim," commented a fan.
"Don't forget that u r a Muslim!! @bellahadid" wrote a user. "You are very stupid lady. You rich and your parents too ( @mohamedhadid ). You don't need to show your body to get money or for other reason. ( sorry) Astagfhirullah.. May Allah forgive you.. Amin," commented another.
Some even called out her stand on feminism by commenting, "Honey, put your shirt back on, you're not liberating women when you do this." This is not the first time that the model faced backlash for posing topless on Instagram. Last week, Hadid has bashed by fans her for exposing "too much" on the public forum.