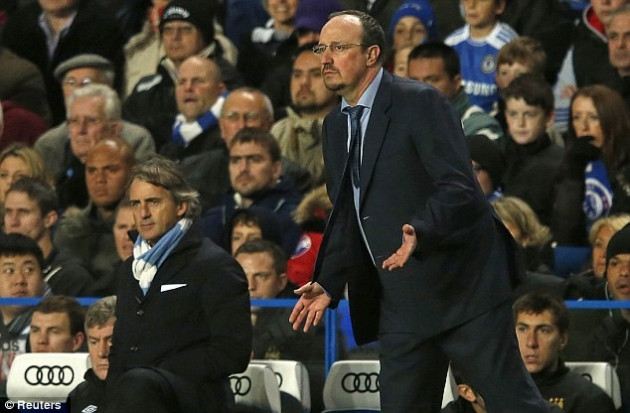 The game of the weekend turned out to be rather uninteresting on the pitch, with Chelsea and City drawing 0-0 and creating limited chances on goal for both sides. While Rafa Benitez was brought in to help Fernando Torres, for the new Blues manager, his work is certainly cut out for him, with the striker failing to make an impact yet again.
Chelsea's fans certainly made an impact though, tearing into Benitez with banners and chanting as the Spaniard managed his first game in the Premier League since 2010.
Supporters have been in the papers for a number of reasons over the weekend, and not just because of Chelsea's difficult relationship with Benitez. West Ham fans have been accused of anti-semitic chants against Tottenham fans, and with the FA investigating the matter there have been calls for harsh punishments if the allegations are proven true.
Harry Redknapp has been all over the news since taking the job at QPR, and the manager has had a lot to talk about - he's admitted that Rangers will be tougher to save from relegation than Tottenham and Portsmouth ever were, but believes it is still possible.
Manchester United have been doing everything right both on and off the field recently, but Sir Alex Ferguson still thinks they can improve, with the side having to win from behind again on Saturday. The club are also celebrating 20 years since Eric Cantona signed on and pulled on a United shirt for the first time.
Meanwhile, Arsenal's top four ambitions are coming into question as the north London side drew 0-0 with Aston Villa, and Arsene Wenger has been quick to insist that he shouldn't be questioned in his management style.