The German capital is getting ready to commemorate 25 years since the fall of the Berlin Wall by dividing the city again – this time with a glowing border made of thousands of illuminated balloons.
The installation features 8,000 illuminated helium balloons on poles. They trace the route of a 15km stretch of the Berlin Wall.
Berliners are starting to get a sense of the scale of the project as the balloons are installed on the line of poles snaking around the city.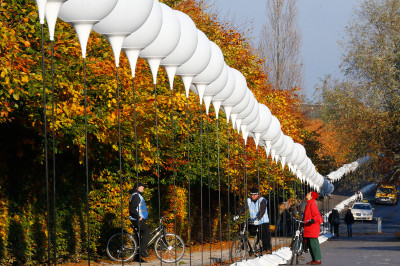 Organisers say they hope the "Lichtgrenze" – literally "Light Border" – will help people who never saw the wall to envisage what the divided city was like.
The installation is the brainchild of brothers Marc and Christoper Bauder. They said they deliberately chose materials which would contrast with the original wall.
"The wall was a huge construction, monstrous, big, long, high, heavy, made of tough material. We would like to set something against that, something that still makes clear its dimensions, its architectural magnitude in the city, but which consists of very light material – air, light – and ultimately floats loosely and gently, so that the whole thing lets the scar heal again, as it were," said Christopher.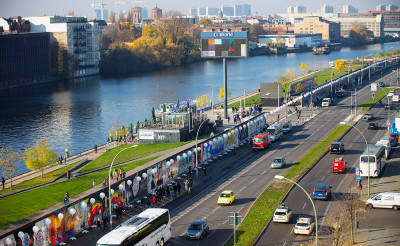 The balloons will be illuminated from 5pm on Friday November 7 until 7pm on Sunday. On November 9, the anniversary of the fall, the balloons are to be released into the sky to an accompaniment of Beethoven's Ode to Joy, the official anthem of the European Union.