From 1961 to 1989, the city of Berlin was divided by the most visible sign of the Cold War: a wall more than 140km (87 miles) long.
In its final form, the Berlin Wall consisted of inner and outer concrete walls separated by a "death strip" lined with fences, trenches, searchlights and anti-tank fortifications, with searchlights and guard towers positioned along the route. The barrier was guarded by troops authorised to shoot anyone who tried to escape.
On 9 November 1989, East German authorities announced they would allow free access between east and west Berlin. Crowds of euphoric East Germans crossed and climbed on to the wall, leading to a reunited Germany.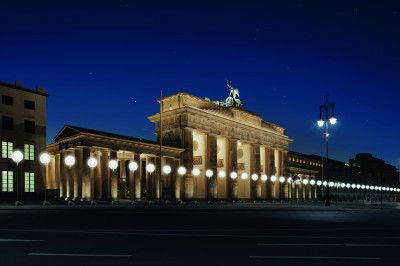 Berlin is marking the 25th anniversary of the fall of the wall by "rebuilding" it with glowing white balloons. Some 8,000 illuminated helium ballons will trace a 15km-long section of the wall, snaking around the city, for just one weekend (7 to 9 November).
Christopher Bauder's installation – called Lichtgrenze (Light Border) – will also feature huge video screens displaying historical footage of what the city looked like when the wall was up – put together by Bauder's brother, Marc.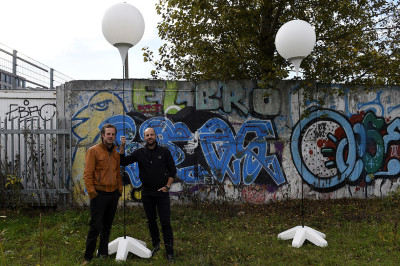 The installation will come to an end on the evening of 9 November, when volunteers will release the balloons and set them free, soaring into the night sky to the strains of Beethoven's 9th Symphony, played by the European Youth Orchestra. The balloons are made out of a biodegradable material so will not harm the environment.
The organisers say that if the weather cooperates, the light installation will even be visible from outer space.
The installation is one of several events planned to mark the 25th anniversary of the fall of the Berlin Wall. British singer-songwriter Peter Gabriel will perform Heroes, which David Bowie recorded in a studio close to the wall in 1977 when he was living in west Berlin.