Back in April we had a look at three of the best smartphones on the market today - the HTC One, the Sony Xperia Z2 and the Samsung Galaxy S5. While all three feature cutting-edge technology, they also come with price tags which are not exactly wallet-friendly.
And so today, we are looking at a couple of smartphones at the other end of the spectrum - the £80 Motorola Moto E and the £99 Nokia Lumia 630 - to see which is the best budget smartphone for you.
We will look at the phones' design, screen, performance, software and camera in order to judge which phone might suit you best.
---
Moto E vs Lumia 630: Design
---
While these phone's clearly don't make use of the premium materials used in high-end smartphones, it doesn't mean their design is terrible.

The Lumia 630 is a well-designed and compact phone, which comes in bright green and orange coloured covers, which are attractive and work well with the colourful Windows Phone interface.
The phone is neat, compact and lightweight, and the sloping sides mean one-handed use is a breeze.
The Moto E design is on the other hand, is not very inspiring and unlike the colourful Lumia 630 is only available in black or white. However it's compact size means it is easy to hold and use in one hand.
Its smooth, curved rear and well-placed buttons means that it's comfortable to hold in one hand, more so in fact than some of the similarly sized premium handsets like the Sony Xperia Z1 Compact or the iPhone 5s
---
Moto E vs Lumia 630: Screen
---
The Lumia 630 has a 4.5in screen with a pixel resolution of just 480 x 854 pixels - and even by budget smartphone terms, it is a poor display. The low resolution makes everything a little blocky particularly now that Windows 8.1 allows you cram even more live tiles onto your home screen.
There is also a significant area of dimming along the top of the screen which is really noticeable on white backgrounds.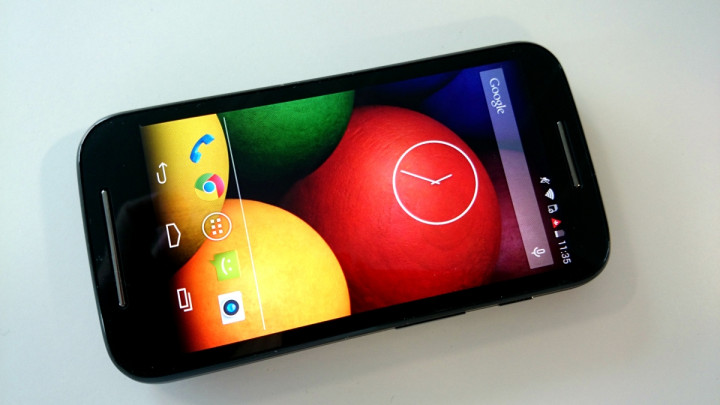 The Moto E's 4.3in display has a slightly higher resolution of 540 x 960 pixels and combined with a slightly smaller screen, everything looks that bit crisper. This is far from a great smartphone screen, but considering the price it is very usable.
Colour representation is accurate and vivid, viewing angles are adequate and even small text is easy enough to read without unnecessary eye-straining.
---
E vs Lumia 630: Performance
---
Neither of these phones are what you would call smartphone powerhouses, but the Moto E, despite having what on paper seems like a slower processor (Snapdragon 200), is a much better performer, showing very little lag and only really showing its limited specs when pushed to play graphics-heavy 3D games.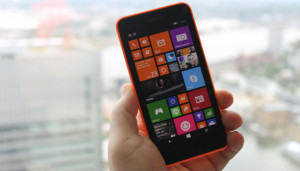 The Lumia 630 on the other hand is noticeably slower when navigating around the Windows Phone interface despite having the more powerful Snapdragon 400 chip - which isn't helped by the measly 512MB of RAM.
It's not terrible, but it is noticeable that loading websites and opening apps is just that bit slower than on the Moto E.
---
Moto E vs Lumia 630: Software
---
Software is the most obvious difference between these two phones.
The Moto E runs an almost untouched version of Google's Android and this means you get full access to the hundreds of thousands of apps in the Google Play store and an interface which has come on leaps and bounds in recent years.
One notable addition is the inclusion of Motorola's Alert app. This can be used to warn close friends and family of any impending emergency or danger by sending out a location blast to a curated list of contacts, as well as auto-dialling the local emergency services.
The Lumia 630 is the first phone on the market with Microsoft's updated Windows Phone 8.1 software bringing with it a slew of new features, including a notification centre, more customisation options, a much improved keyboard and of course Cortana - Microsoft's answer to Siri and Google Now, though this will only be available in the UK later this year.
While Windows Phone 8.1 is much improved, there are still some shortcomings, and for now Android remains a better all-round bet.
---
Moto E vs Lumia 630: Camera
---
Both of these smartphones have five megapixel cameras on the rear without a flash. As you would expect, neither camera is great but both will do in a pinch.
Both phone's also lack front-facing cameras, which thankfully means less selfies but also means no video-calling.
---
Moto E vs Lumia 630: wWhich should you buy?
---
While the Moto E seems to tick more boxes, I do like the look and feel of the Lumia. Yes the selection of apps in the Windows Phone store is more limited, but it is getting better all the time, and Windows Phone 8.1 update is a big step forward.
That said, the performance and screen of the on the Moto E are much better, and for first time smartphone buyers, the Android interface is more approachable.
Both smartphones offer something different for customers at the lower end of the smartphone market, but for me the Lumia 630 just sneaks it.
Let us know in the comments which phone you think is better.