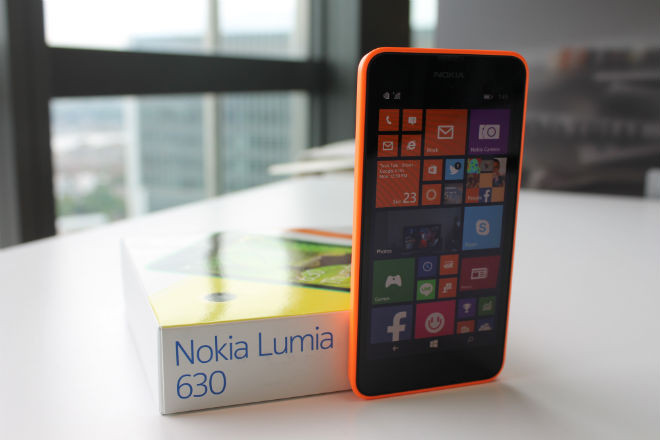 Key Features:
4.5in display (480 x 854 pixels)
Windows Phone 8.1
8GB storage with microSD slot
Colourful replaceable covers
5 megapixel camera
Price as Reviewed: £99 (with £10 top up)
Nokia Lumia 630 Review
Windows Phone as a platform is making slow but steady progress. The move to subsume Nokia into Microsoft could accelerate its growth, but for now it will have to rely on the products which are on the market, which now includes the budget Nokia Lumia 630.
The Lumia 630 replaces the best-selling Windows Phone device ever - the Lumia 520 - as the main budget smartphone offering for the entire platform.
As such, it is going head-to-head with a range of Android smartphones which are priced aggressively while featuring decent hardware and the latest version of Android.
Can the Lumia 630 - which is the first phone to come with the upgraded Windows 8.1 - challenge the budget Android devices?
---
Lumia 630: Design
---
Nokia is the king of colourful smartphones and the Lumia 630 is no different. While it is available in black, the more colourful options are green and orange.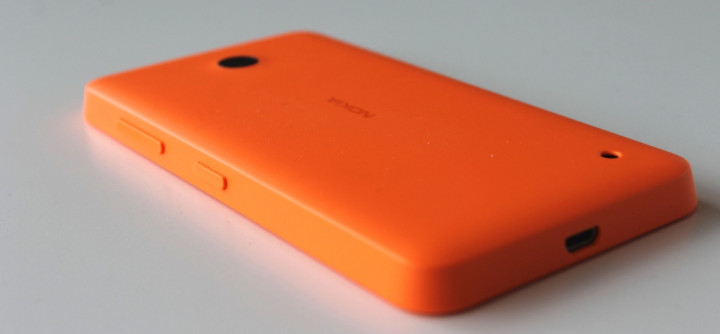 These are the colours of the season according to Nokia and while some may find them slightly too garish, I like them a lot.
The matte plastic finish is also attractive and comfortable to hold and while the removable covers don't seem the most robust, they do the job.
The phone is neat, compact and lightweight, and the sloping sides mean one-handed use is a breeze.
---
Lumia 630: Display
---
The Lumia 630 has a 4.5in screen with a pixel resolution of just 480 x 854 pixels, giving it a pixel density of 218 pixels per inch (ppi).
Now there is no point in comparing this screen with the ultra high definition screen on the LG G3 which was launched this week (538ppi) but even at the budget end of the market, this screen is poor.
While colour reproduction is OK, the low resolution makes everything look a little blocky, particularly now that Windows 8.1 allows you cram even more live tiles onto your home screen.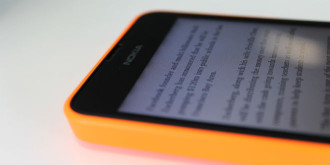 There is also a significant area of dimming along the top of the screen (see picture) which isn't immediately obvious when navigating around the Windows Phone interface with its black background, but open a webpage with a white background and you can't fail to notice it.
Another issue is the lack of an automatic brightness setting, meaning you will need to manually change the setting depending on what lighting conditions you are in - with just three options available (low, medium and high).
Overall, while the screen isn't the worst I've seen on a phone, it's definitely a step down from what's available on comparable Android smartphones - such as the Moto G.
---
Lumia 630: Performance and battery life
---
The Lumia 630 is powered by the Snapdragon 400 chip which is paired with a paltry 512MB of RAM. The result is performance which feels dated compared to today's other smartphones and while this has something to do with the Windows Phone OS, the Lumia 630 takes just too long to open apps, load websites and buffer video or audio.

On the plus side, the phone never gave me any troubles with apps crashing though the system did freeze at one point necessitating a removal of the battery in order to reset it.
Internal storage is limited to 8GB which is reduced to just 5GB once you take the pre-loaded software into account. Thankfully there is a microSD card slot available, something often missing from higher-spec phones these days.
In terms of battery life, the small-sounding 1830mAh battery in the Lumia 630 easily gives you a full day's typical use.
As this is a budget phone, Nokia has elected not to support 4G, though with EE announcing its £99 Kestrel smartphone with 4G support recently, this excuse no longer holds much weight.
---
Lumia 630: Camera
---
Well, there's not much to say here. You get a basic 5 megapixel sensor on the rear without a flash, which performs as you would expect.
In good lighting conditions you can capture still images relatively well, though obviously fine detail will be lacking. Try and capture a moving object or night time scene however and the limitations of the camera become evident.
While the Nokia camera app is brilliant on the Lumia 1020 when it has the camera hardware to go with it, here it seems like overkill and most users will be looking for a the more straight forward standard Windows Phone app.
There is also no front camera on the Lumia 630 which (thankfully) means less selfies and (unfortunately) no video calling.
---
Lumia 630: Windows 8.1
---
Aside from its low price, the secret weapon in the Lumia 630's locker it that it is the first phone to come with Windows Phone 8.1.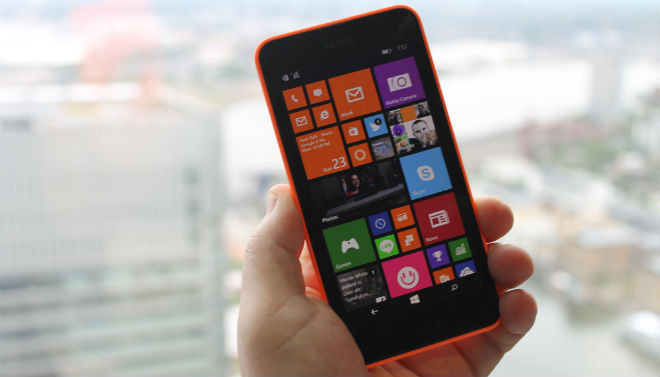 What does that mean over Windows Phone 8? Well there are a ton of updates, the vast majority of which are excellent addition to the interface.
Windows Phone 8.1 brings a notification centre called Action Center - something sorely missing from previous versions of the operating system - and more customisation options on the home screen including more icons crammed onto the screen and the ability to put a picture behind those icons.
Another big improvement is the Swype-like keyboard called Word Flow which is excellent.
The headline feature of Windows 8.1 is Cortana, the voice-activated personal assistant but it won't be available in the UK until later this year (though there is a way around this for those interested).
While Windows 8.1 is certainly a big improvement, the main problem with Windows Phone 8.1 remains - a lack of apps. Some apps I use everyday on Android - such as Pocket - are not available.
Until the Windows Phone store gains something approaching the breadth and depth of the App Store or Google Play, this will be a big negative for phones from the Lumia 630 up to premium devices like the Lumia 1020.
---
Lumia 630: Value and Verdict
---
Nokia is selling the Lumia 630 directly for £129 but if can be had from Carphone Warehouse for £99 plus a £10 top up on O2 and Virgin Mobile.
While this is certainly a great price for a smartphone with a 4.5in screen, attractive design and good build quality, the poor screen resolution, lacklustre performance and lack of apps on Windows Phone, means there are better options out there for first-time smartphone users.
Both the Moto E (£89) and the Moto G (around £100) offer better performance and the range of Android apps is huge in comparison.
If you really like the Windows Phone interface (and there is certainly more to like with 8.1) and are looking for a cheap option the Lumia 630 will suffice, it's just a pity Nokia/Microsoft didn't make it just that bit better.
Scores:
Screen 6/10 – At 4.5in it's big enough, but poor resolution and uneven lighting are a big problem
Camera 5/10 – No flash, but the 5 megapixel rear camera will do in a pinch
Software 8/10 – Windows Phone 8.1 is a big improvement but where are the apps?
Design 8/10 – Bright, lightweight and attractive, but go for the green or orange rather than plain old black
Build quality 8/10 – It's no iPhone 5s, but the phone feels compact and solid
Overall 7/10 – A budget price is not enough any more, Microsoft needs to do more to challenge Android at the low end
The Good
Bright, lightweight design
Windows 8.1 a big improvement
The Bad
Poor performance
Low res screen
Lack of apps