The UK mobile phone industry is in a period of massive transition at the moment as BT looks to get back in the game with the £12.5 billion purchase of EE; Three's owners agreeing to buy O2 UK for £10bn; and Sky and Dixons Carphone set to launch their own virtual networks.
For mobile phone users in the UK this is of much less importance than factors like how well your network performs and how much it costs to use your phone; and for the former at least, the latest report from Rootmetrics will make for interesting reading.
According to the report all four major networks (EE, Three, O2 and Vodafone) are getting better, with improvements across the board in speed, mobile internet performance, and network reliability.

However the gap between the performance of the top two networks and the bottom two networks is significant according to the report, which says "a wide difference in performance exists between the top level of networks (EE and Three) and the second tier of networks (O2 and Vodafone). O2 did not win any RootScore Awards, while Vodafone managed a single tie for first in our Northern Ireland Call RootScore Award."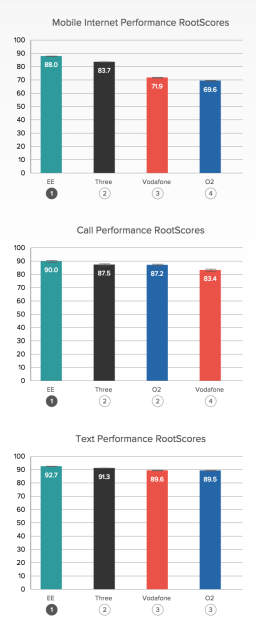 The research firm says its tests, which were carried out during the second half of 2014, covered 100% of the UK with 1,002,692 tests being performed; 24,000 miles driven and 1,200 indoor locations tested.
While Three moved closer to EE than it was in the first half of 2014, overall the positions of the four networks remained unchanged with EE claiming top spot, followed by Three, O2 and Vodafone remaining the worst performing network overall.
Responding to the report, Vodafone said that thanks to its £1bn investment its customers "are experiencing a significantly improving network every day."
A spokesperson said that there have been "numerous reports into UK network performance over the last few months, each of which shows different results as they are based on different criteria, from locations tested to devices used."
The Vodafone spokesperson cites an independent LCC report carried out between December 2014 and January 2015 which shows that in 15 major cities where it has rolled out 4G, Vodafone provides "unbeatable or the best indoor and outdoor 4G coverage".
Vodafone says it continues to call for "a common industry approach to these reports to properly measure a consistent signal for voice, data and video in areas where customers need it, including indoors."
Bright spots
However the result of the worst UK network was not entirely clear cut, with O2 performing worst in mobile internet performance, internet speeds text performance.
"For Vodafone, the bright spots in its neck-and-neck race with O2 were seen in our mobile internet and speed categories: In both of these performance indicators, Vodafone slightly pulled ahead to take third-place honours while O2 finished last. Both of these third-place finishes mark improvement for Vodafone, which had finished in last place during our previous testing cycle," the report says.
Vodafone is also overhauling its 4G offering in built-up areas, which could account for the network's improved results in network speeds and internet performance.
Root metrics said that if Vodafone's call performance improves along with its speed, "the network could quickly become a top contender."
Reliable old Three
EE however remains the dominant network in the UK. It is also the largest, with 31 million subscribers and has far-and-away the largest 4G network, meaning the fact is was the fastest UK mobile phone network is hardly a surprise.
EE is about to be bought by BT in a £12.5bn deal, so whether or not this has an impact on its overall performance in tests like these is unclear.
While EE may be the fastest, Three is the most reliable network across the UK according to the result of Rootmetric's tests:
"Three is especially strong if you are looking first and foremost for reliability: The network earned a RootScore Award for reliability in all nations except England (where it was second). In fact, Three outperformed EE in our tally of reliability wins at the nation level."
Responding to the improved results for his network, CTO at Three Bryn Jones said: "These results show that we are leading the market on reliability and giving our customers a consistent, quality network experience. These technical measures back up what our customers are already telling us and show that our focus on the network is bringing genuine benefits to customers. I'm confident that we'll be able improve even further as we continue to invest in and enhance our network."