The premiere of Better Call Saul is right around the corner and there are rumours whether Breaking Bad's Walter and Jesse will appear on the show.
During the Television Critics Association press tour this week, Better Call Saul co-showrunner Peter Gould revealed that the Breaking Bad prequel has no immediate plans to include Bryan Cranston or Aaron Paul's characters.
"We really want this to stand on its own," Gould told The Hollywood Reporter.
However, that doesn't mean that viewers cannot get a glimpse of their favourite meth dealers in the upcoming seasons.
Gould and co-showrunner (and Breaking Bad creator) Vince Gilligan said that Walter and Jesse could show up at some point in the spinoff, if the story and timing feel right.
"[I'm] not saying it's never going to happen," Gould clarified, while Gilligan added, "Our intention and our hope is that it will feel proper and organic. If it feels like a stunt, then we in the writer's room will feel like we have done something wrong."
However, the show's creators do have plans for how they could bring old cast members onto Better Call Saul.
Gould said, "The writer's room contains a cork board with every Breaking Bad character that could feasibly return.The board ranges from Walt and Jessie to smaller characters like Wendy."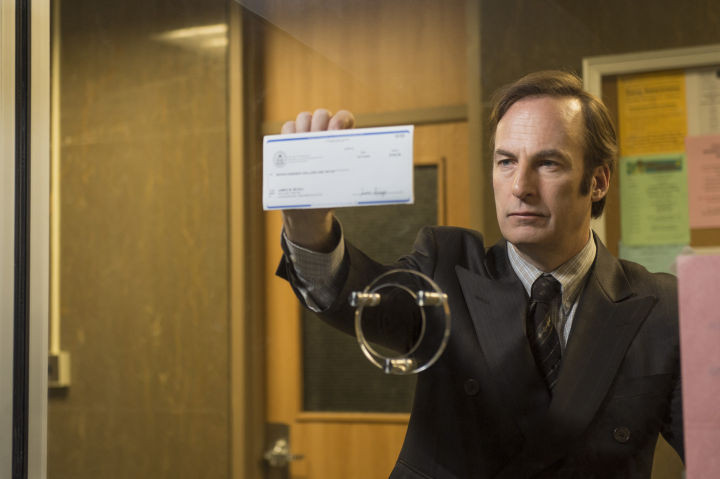 Gilligan and Gould also shared their thoughts on how time will pass on the show, which largely takes place six years before Jimmy McGill/Saul Goodman (Bob Odenkirk) meet Walter White, but it will have elements occurring after the events of the hit AMC series.
"We don't have all the answers yet," said Gilligan.
"Walter White had a very existential and very immediate problem, he was dying of cancer, that whole show felt by necessity that it had to be very accelerated storytelling. We don't have that issue with Jimmy McGill."
Better Call Saul will be set in 2002, and will focus on the life of small-time lawyer Saul Goodman (Bob Odenkirk) six years before his appearance on Breaking Bad.
The series is set to premiere over two nights on 8 and 9 February, 2015.