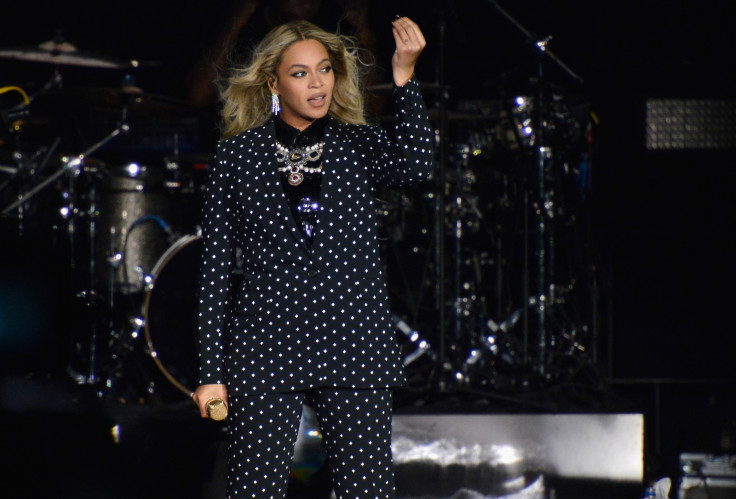 Beyonce is pregnant with twins and her surprise announcement has sent the internet into meltdown. But no one is able to guess how the singer managed to hide the big new from her fans for months.
The Beyhive (singer's fans) speculates that Queen Bey left cryptic hints about her baby news in the Christmas post on Instagram.
A video posted on 17 December by the 35-year-old singer shares a collection of images showing off her Christmas tree decorations. What everyone missed was the tiny baby bump hidden behind her blue suede mini dress.
In one of the image, the Formation hitmaker was seen making a peace sign and in the next picture, she made a heart with her hands – probably trying to tell that she is nurturing two more hearts in her womb.
The pop diva announced her pregnancy news by sharing a series of maternity pictures on her website with the line: "I have three hearts". And Beyhive speculates that her caption for twin pregnancy was something she was trying to say through signs that no one noticed.
The gender of Jay Z and Beyonce's babies is the next topic of discussion and many believe that the songstress has already given hints. Rumours are abuzz that the mother of Blue Ivy is pregnant with a boy and a girl as most of her pictures contain both the colours. In one picture, Queen Bey wore a maroon-and-pink bra and light-blue silk panties. In another picture, her five-year-old daughter is seen kissing her baby bump. She also has pink and purple beads with a tiny blue clip.
"We would like to share our love and happiness. We have been blessed two times over. We are incredibly grateful that our family will be growing by two, and we thank you for your well wishes. - The Carters," the music power couple's baby announcement reads.
Looks like Beyonce's fans will have to wait till the multiple Grammy-winning singer drops another post to announce the gender of her babies.
"Ideally they would love to have fraternal twins — a boy and a girl. Beyonce really wants Blue Ivy to have a sister — she can't imagine her life if she didn't have Solange. She would love her daughter to have that kind of relationship, too. And of course she and Jay have always wanted to have a son. Most of all they just want two healthy babies," a source told Hollywood Life.