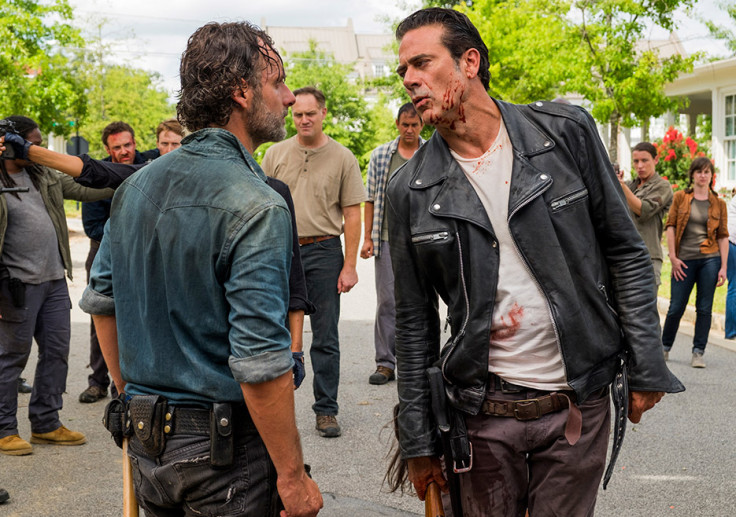 No more doomsday scenarios in Alexandria Safe Zone. Rick Grimes has reunited with his core team members – Daryl Dixon and Maggie. Negan has to find cover as his opponents are getting battle-ready. Jeffrey Dean Morgan, who plays the hated character Negan, has teased that the second half of The Walking Dead season 7 will be crazy.
"It's been an interesting journey, the first half of [season] seven. And it's only gonna get more crazy," Morgan teases in the special featurette released by AMC.
The first part of the seventh season features a defeated Rick who is shattered after the Savior leader kills Glenn and Abraham. In order to preserve the lives of the other members of his team, whom he considers family, the father of two bows down to the Savior's oppressive rules. Eight episodes later and after Michonne's constant taunts, he realises that by surrendering to the violent leader, he is only making his life as well as those of the team more miserable.
Hence, it is time to rise up, gather forces and fight back and that's exactly what Rick is planning to do. While he needs the support of other surviving societies, it is the physical presence of Daryl and Carol that will uplift his morale to a level where he can defeat any odds and will smile again.
A final teaser released by AMC showed Carol's return as the badass woman no one wants to mess with in the world swarming with zombies. Negan is yet to realise that he has messed with the wrong woman by killing her dear friends. In season five, she destroyed the Cannibals' safe zone, Terminus, and saved Rick and his team just before their slaughter. And now that she is back, fans are expecting something similar from her.
Since the beginning of season 7, she has abandoned violence as a mean of survival. Hence, it remains to be seen, how Rick, Carol, Michonne, and Daryl will gather forces and how they will manage to find ammunition to fight and defeat the baseball bat-wielding autocrat's notorious army.