Beyond Boko Haram: Photographer Fati Abubakar captures resilience of Borno state communities
IBTimes UK interviews photographer Fati Abubakar on daily life in Borno, ravaged by Boko Haram insurgency.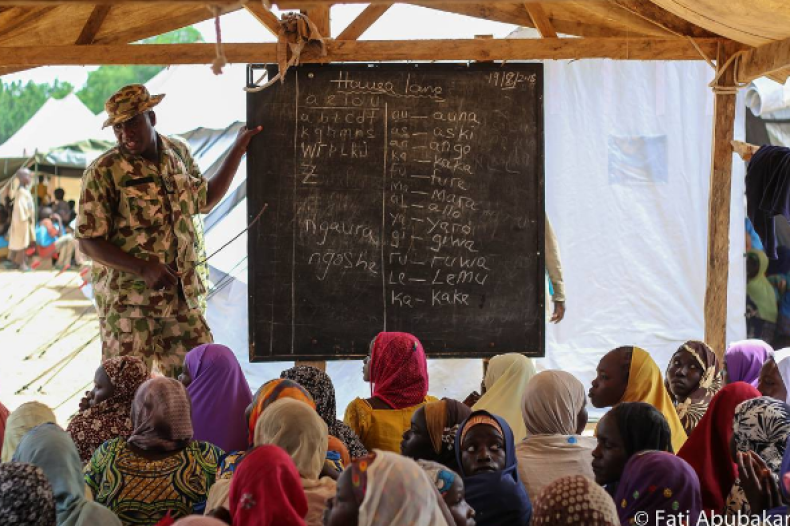 For the past seven years, the Nigerian government has been fighting a violent insurgency in several states in the northeast. Jamā'at Ahl as-Sunnah lid-Da'wah wa'l-Jihād, later renamed by locals as Boko Haram – which loosely translates from the Hausa language to: "Western education is forbidden" – was founded in Borno state in 2002.
Borno, and particularly its capital Maiduguri, is one of the states that mostly bear the brunt of the violent insurgency, which has resulted in thousands of deaths and millions of people displaced.
Boko Haram, an ally of the Islamic State (Isis/Daesh) terror group, is renowned for setting entire villages alight, kidnapping thousands of people and using civilians as suicide bombers. Although the group originally carried out attacks in Nigeria, the conflict soon spilled over into neighbouring states Cameroon, Chad and Niger.
At least 6.3m people, including 500,000 children, are currently displaced in the Lake Chad region. Of these, about 4m are in Nigeria where more than 65,000 people are already living in famine, with the UN children's agency Unicef estimating at least 50,000 children in Borno alone will die this year if they do not receive treatment.
In addition to its own military operation Lafiya Dole, Nigeria is now leading a regional offensive – consisting of 8,700 troops from Nigeria, Niger, Chad, Cameroon and Benin – against Boko Haram.
As the regional offensive continues to battle the group in Borno's Sambisa forest – believed to be the last Boko Haram's stronghold – and humanitarian organisations are calling for more help to assist displaced communities, a Nigerian photographer is using her talent to show life beyond the Boko Haram insurgency in Borno.
Resilience
Fati Abubakar was born in Borno 30 years ago. She remembers how people's lives went on unaffected by the violence that would ravage the state years later, following the death of the then Boko Haram leader, Mohammed Yusuf, killed while in police custody.
"The Borno I grew up [in]was a lovely close knit community. It was a quiet, sleepy town known for his peaceful lifestyle and hospitality. We were famous for our Borno caps, flamboyant weddings and our pride in our colourful tradition," Abubakar told IBTimes UK.
"The Borno I came back to in May 2015 was a town that was in total devastation. It was completely different. There were strangers everywhere, all the friends I had from my childhood had moved. Everyone told harrowing stories of loss. It was traumatising. Very gut wrenching. It is not as happy as I grew up knowing it."
---
Nigeria up close: Check out our Flipboard magazine
---
In spite of the devastation witnessed in the state, Abubakar said she "sensed resilience" when she engaged with the communities, something she said the media are failing to highlight.
"The insurgency has been portrayed from mostly one angle, which is devastation and death. I was tired of the trauma narrative so I diverted from it," she said.
Who are Nigeria's Boko Haram?
Boko Haram, which has renamed itself Iswap, fights against Western influence in Nigeria and aims to impose its version of Sharia law throughout occupied territories.
The group launches attacks in Nigeria and neighbouring countries in a bid to take control of more territory. Three Nigerian states – Adamawa, Borno and Yobe − have been under a state of emergency since May 2013.
Boko Haram has killed more than 20,000 people since 2009 and was deemed the world's deadliest terror group, surpassing Islamic State in November 2015. Nigeria has also become the world's third-most terrorised country as a result of the group's violent insurgency.
At first, Abubakar took pictures of buildings, especially schools, often targeted by suicide bombing missions.
However, she then started portraying the lives of communities "left behind".
"My interest was the impact of the numbers that have died on the numbers that have been left behind. So after the bomb blasts, who do you see? The family? The children?," she explained.
"Despite the fact that there is a crisis going on, there are people that are resilient and if that adversity hadn't happened to them, they wouldn't be as strong as they [are].
"There's a slow gradual return despite all of the adversity. So I do want people to remember us not only for our cultures and traditions but for our resilience during this conflict. My favorite photos of Borno are mostly of markets. To me, it is a sign that the city is still alive."