Millions of people have been displaced in the Lake Chad region as a result of a seven-year-long violent insurgency by Boko Haram terrorists. The Islamist outfit – which originated in Borno state, northeastern Nigeria – is blamed for the death of at least 20,000 people since its insurgency became violent in 2009.
Boko Haram is renowned for setting entire villages alight, kidnapping thousands of people and using civilians as suicide bombers. Although the group originally carried out attacks in Nigeria, the conflict soon spilled over into neighbouring states Cameroon, Chad and Niger.
As a result, in addition to its own military operation Lafiya Dole, Nigeria is now leading a regional offensive – consisting of 8,700 troops from Nigeria, Niger, Chad, Cameroon and Benin – against Boko Haram.
The offensive has scored some successes, such as the recapture of key territories and the release of thousands of civilians held captive by the group.
Nigeria's President Muhammadu Buhari, who vowed his administration would defeat Boko Haram – has repeatedly called for a global effort to tackle the humanitarian crisis in the Lake Chad water basin, which comprises Chad, Cameroon, Niger, and Nigeria, all areas affected by Boko Haram.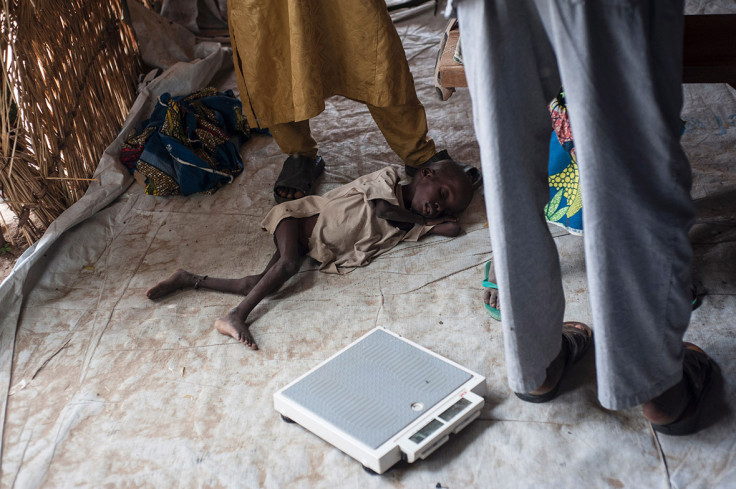 Displacement and food insecurity
The Lake Chad region, one of the poorest areas of the world, is witnessing a deep humanitarian crisis exacerbated by the negative effects of climate change. At least 2.6 million people have been displaced by Boko Haram and at least 6.3 million people are facing hunger.
"One of the biggest challenges when people are displaced, is that they are displaced away from their farms and away from the lake," Kathryn Achilles, humanitarian campaigns manager at Oxfam, told IBTimes UK.
"The military response has been to remove people from the areas that are at risk of attacks or where the military operations are ongoing. The situation is really exacerbated because it means that people don't have access to their own farms and to the lake."
Lake Chad crisis in numbers
Displaced people: 2.6m, including people who fled their homes and refugees
Food insecurity: At least 6.3m, including 500,000 children.Of these, about 4m are in Nigeria, more than 2m in Niger, Chad and Cameroon. More than 65,000 people are already living in famine in pockets of northeast Nigeria. The UN children's agency Unicef estimated nearly 50,000 children in Borno alone, will die this year if they do not receive treatment.
Funds: The UN has appealed $559m (£451m) to cope with the crisis. 15 organizations in Nigeria are looking for $143m until the end of the year to provide life saving support such as food, water, shelter and safety.
Economy
Boko Haram tends to carry out attacks in crowded areas such as markets. As a result, the economy of some of the worst affected areas has been affected due to the closure of markets, a move that has disrupted businesses, but has also prevented people from buying essential goods.
For example, earlier this year, Cameroon's Far North region closed most of its markets along the border with north eastern Nigeria following deadly attacks blamed on Boko Haram.
Although some argued the decision would undermine people's businesses, authorities said the decision was made for security reasons as attackers often disguise themselves as traders and detonate explosives in crowds.
A similar decision taken by authorities to close crowded marketplaces was taken in Nigeria and Niger.
"More and more people have become almost entirely dependent on humanitarian assistance. Part of our response on food is to get cash for the people who are able to access markets and buy the food and the goods that they want, so that they can choose for themselves, as well as to keep those local markets running. We also have to complement that work directly though assistance," Achilles said.
"The UK, US and EU have provided a huge amount of funding, that's really welcome, but the number of people who need assistance right now is huge and we need to see a much greater engagement from the international community and from donors," she concluded.