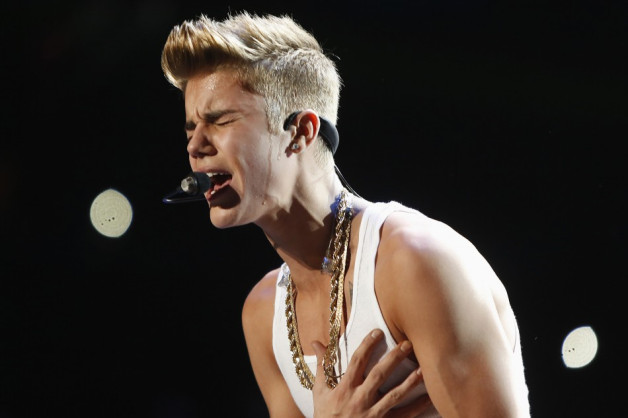 Justin Bieber is on "lockdown" to make sure he does not fall foul of the ultra-Conservative religious authorities in Dubai, where he is performing on the latest leg of his worldwide Believe tour.
The 19-year-old Canadian star's entourage booked a suite of 60 rooms in two 5* hotels, one of which is 40 minutes away from the town centre, to ensure he is not tempted by the nightlife and break the law prohibiting drinking alcohol for under-21s.
His team also asked the star's girlfriend Selena Gomez to stay in a separate hotel if she visits, as unmarried couples are not allowed to stay in the same room.
A source told the Sun: "Everything is on lockdown because Justin's management know he'll be watched like a hawk by the authorities.
"His team have been scouting the area for things for him to do instead of going to bars all night.
"He can't even stay in some of the best restaurants after midnight and has to be with an adult until then."
Young fans were left disappointed when he turned up two hours late for his performance on Saturday night, only months after he left fans in London waiting for hours.
Thousands of people were packed into the Sevens Stadium for the performance, only to be told repeatedly by the announcer between 8pm and 10pm that Bieber was "on his way".
Sunday is a school day in Dubai, and parents were left fuming that the late start meant that many were only able to get their children home in the early hours.
One parent, Rachael Quborsi, told Sky News that her 11-year-old daughter returned home from the concert at 12.45am local time.
"I think it is disgusting that he can be over two hours late and he keeps on doing it. Who do these pop stars think they are?" Ms Quborsi said.
In March, fans at London's 02 stadium were also left waiting for two hours for Bieber to show up.
Some were left bitterly disappointed when they had to leave after the first few songs of the gig in order to catch trains home.
Speaking to Sky News from Dubai parent Eddie Bradley was incredulous that families who had paid to see the performance were again left disappointed.
"Clearly, having done this in London and being slated for it has made no difference to this performer and his management team," he said.
"My wife and nine-year-old daughter, along with friends have been waiting for four hours at the venue for the concert to start.
"We are disgusted by this lack of consideration for paying fans, many of whom should be in bed by now in readiness for school."
Controversy has dogged Bieber in recent months. A gig in the Muslim country of Oman was cancelled when authorities deemed his stage routine "too sexy."
In April he was criticised for insensitivity when he wrote that Anne Frank, who was killed in the Holocaust, would have been a Belieber, as his fans are dubbed.