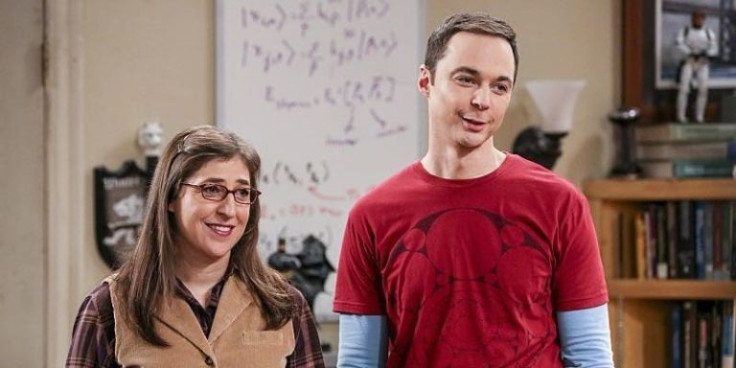 With just a few days left for The Big Bang Theory season 11 premiere, CBS has released a new promo for the much-awaited season, featuring Sheldon Cooper, Amy Farrah Fowley, Leonard Hofstadter and Penny.
[Warning: Spoilers Ahead]
The preview also explained why he decided to finally propose to his long-time girlfriend.
The promo continues from where season 10 ended, with Sheldon knocking on Amy's door and saying those golden words, "Will you marry me?"
However, their romantic moment is interrupted by Leonard's phone call. Much to Amy's frustration, Sheldon picks up his friend's call, explaining, "I don't want to be rude." On the other end of the phone in Pasadena, we see a worried Leonard and Penny asking about the physicist's whereabouts.
"Where you been? We have been calling you for hours!" asks a worried Leonard, to which Sheldon replies, "I am sorry, my phone was on airplane mode."
Later, Penny chimes in, asking, "Hey! Where are you?" to which Sheldon explains, "I came to Princeton to see Amy. It's a funny story actually" and goes on to reveal why he proposed to Amy.
"I was on a lunch with Ramona Nowitzki, and she kissed me." Everyone, including Amy, seem shocked at Sheldon's reveal, as he goes on to add, "And in that moment, I realised that Amy was the only woman I wanted to kiss for the rest of my life. So I came to New Jersey to ask her to marry me."
Penny gushes, saying, "Aww! It's soo sweet," and the promo ends with Amy getting choked up to hear her boyfriend's romantic declaration. So, in all probabilities, it looks like it's going to be a 'Yes' from Amy.
Previously, showrunner Steve Molaro spoke to The Hollywood Reporter about whether Sheldon and Ramona's kiss will impact his relationship with Amy going ahead.
"It might be! We were careful to keep Sheldon an innocent bystander in all this, but another woman being the impetus? If I'm Amy, I'm not sure how I feel about that. She knows she loves Sheldon and he's here in front of me... but it's a really interesting situation," Molaro teased.