The Big Bang Theory Season 7 finale saw Sheldon deciding to board a train and exit Pasadena. He was overwhelmed after Leonard and Penny's engagement, and Leonard asking him to move out.
There has been a lot of speculation over whether Sheldon got into that train - or whether he actually stayed in Pasadena.
TV Line have confirmed that yes, Sheldon did board the train.
"For those curious about Sheldon's whereabouts all summer, I can confirm that he did, in fact, get on that train (vs. just squatting in the station, as some have speculated). The bigger question you should be asking yourself is whether he ever stepped foot outside the train during his epic journey," a source told TV Line.
Kaley Cuoco, who plays Penny, has said she wants to see a wedding in the show.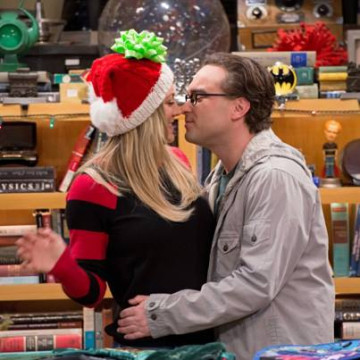 The 28-year-old actress told Women's Health that she doesn't yet know what is going to happen in the next season, but she wants to see a Penny and Leonard wedding.
She said: "I'm hoping next season will involve a lot of wedding stuff, I think that would be really fun. If I had to guess, Leonard is probably more of the planner than Penny, which would be very funny... Everyone's growing up a little bit."
Cuoco also revealed she would be happy playing a "girl-next-door" like Penny for as long as possible.
"You know, not all of us are chameleons that can do every different thing," the actress said.
"I hope I'm going to be typecast. I will play the girl next door for the rest of my life if I have to. I always kind of feel like I have that in my pocket when I go into a room. Like, 'Fine, I'm going to go back to this amazing job that's shredding and love it.'"
The actress married tennis player Ryan Sweeting on New Year's Eve in 2013, and the couple are approaching their one-year anniversary together.
Recently, Warner Bros. TV reportedly agreed to pay the show's three lead stars - Cuoco, Johnny Galecki and Jim Parsons - $1m an episode after the trio stalled production for a few days.
The holdup temporarily delayed production on season 8, but Cuoco, Parsons and Galecki are said to now be back at work and the show is back on track.
The Big Bang Theory Season 8 is set to premiere on 22 September on CBS.